A recent survey by YouGov for SellingUp.com showed that 39% of property owners had heard of Purplebricks – but not many people know just how many alternative online estate agents there are to choose from. Ongoing research into the sector by SellingUp.com enables us to estimate that there are approximately 50 credible online estate agents in the UK – that's a lot of consumer choice.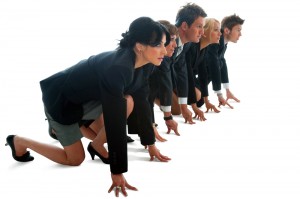 We have edited that list down to 34 agencies that have an established presence and a UK-wide inventory of property for sale (as opposed to a just a handful of properties on their books, clustered in a single region).
You may have heard of some of the online agencies in our table, perhaps those that have advertised on TV, but you probably won't have heard of most of them. However, that doesn't necessarily mean they aren't just as good as the top agencies, it may be that they have smaller marketing budgets, or are newer entrants to the industry.
We have compiled this list of national online estate agencies into a league table to show you which other agencies are out there for sellers looking at alternatives to Purplebricks.
Online Estate Agent League Table – May 2016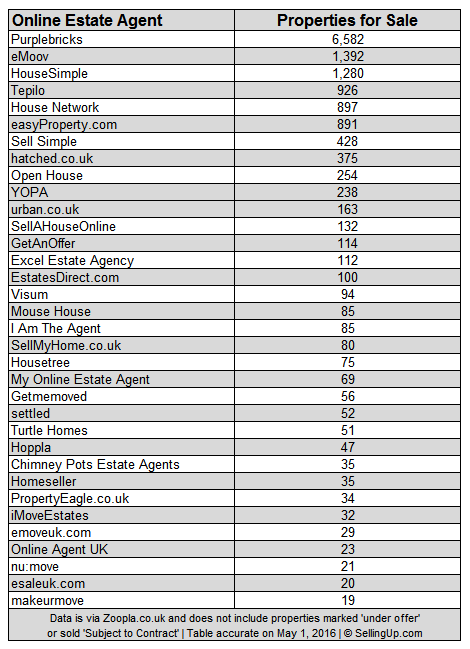 About the league table of online estate agents
We have ranked the agents in order of how many residential properties are listed on Zoopla for sale at the beginning of May 2016 but (unlike a similar exercise by SellingUp.com in February 2015) we have not included properties marked 'under offer' or 'sold subject to contract'. The reason we are not counting properties that are under offer is that some estate agencies – notably Purplebricks themselves – appear to remove a high proportion of properties from Zoopla when they go under offer. This way, by only counting listings that are completely available, we have a more level playing field when ranking the online agents by size.
Some online estate agents may claim that they are very quick at getting properties to 'under offer' and therefore they could appear lower on this table than they would otherwise be. In the interests of clarity, the only material difference in the rank of the major big six agents if 'under offer' properties were included would be that 4 and 5 would swap places, making House Network larger than Tepilo.
It also should be pointed out that not all of the online agents in our table offer exactly the same service as Purplebricks, but they do all offer a form of fixed fee online estate agency and can get properties listed on Zoopla.co.uk at a minimum (most, if not all, will list on Rightmove too).
Want to know how much these online agencies charge, and precisely what services they offer?
Several of the online estate agents in this league table, including all of the top six, are featured in our unique price comparison tool.