In the month of its stock market launch, Purplebricks has been shown to be easily the most recognisable online estate agency. A poll of 1300 homeowners by YouGov for SellingUp.com found that 39% knew the Purplebricks name, even though it only launched in April 2014.
The survey revealed Purplebricks to have a far higher brand awareness than all of its six major online estate agents rivals combined, who between them tallied 22% recognition.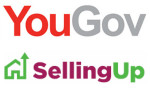 Second to Purplebricks was television property expert Sarah Beeny's Tepilo with 10% of homeowers saying they had heard of it, followed by 7% for eMoov, which is backed by former Dragon's Den investor James Caan.
Relative newcomer easyProperty claimed 2% brand recognition, ahead of notable competitor HouseSimple (funded by Sir Charles Dunstone of Carphone Warehouse) and early market entrants House Network and Hatched which each polled 1%.
Survey question and answers
Analysis from the survey
The two online estate agencies that scored highest in brand awareness, Purplebricks (39%) and Tepilo (10%), have been the most active in television advertising. eMoov (7%) and HouseSimple (1%) are both larger than Tepilo in terms of properties listed for sale, but are more reliant on online advertising to promote their brands.
easyProperty (2%) is by far the most recent entrant to the online property sales market (September 2015) but has also engaged in TV advertising, albiet on a small scale than Purplebricks and Tepilo. The familiarity of the 'easy' brand which it has licence to use, may be a factor in pushing up brand recognition.
Almost one third of respondents (29%) have never heard of the existence of online estate agents. This suggests there is substantial market growth potential once awareness of the concept as an alternative to the traditional high street model widens further.
Comments from SellingUp.com
"We commissioned YouGov to conduct this survey of homeowners to benchmark the online estate agent industry at a pivotal moment – the floatation of Purplebricks on the London Stock Exchange on December 17.
"The poll suggests that Purplebricks is streets ahead of its competitors in terms of public brand awareness, despite only launching in April 2014, several years after its three biggest rivals Teplio (2008), HouseSimple (2007) and eMoov (2010).
"The finding will be welcome news for those who have already invested in the company and may help back up its London Stock Exchange launch valuation of £240million.
"For its major, well funded competitors such as eMoov and HouseSimple, this poll could be further evidence that in order to reach mass market awareness, television advertising is an essential tool to complement an online strategy.
"As the first online estate agent to become a public company, Purplebricks will have access to far greater funds than before – an estimated £25 million – much of which it will spend on marketing and business development.
"This further investment could be enough to take the whole industry over the tipping point from being a niche service for the cost-conscious into a fully mainstream alternative to commission-based high street agencies."
– SellingUp Director Oliver Lewis
Survey notes and demographics
Full survey question:
A new set of companies called 'online estate agents' have emerged in recent years, charging a fixed fee of around GBP 300-GBP 800 to sell your property on your behalf, provided you do some of the work yourself (e.g. showing buyers around).
Please note that websites such as Rightmove, Zoopla and Primelocation etc. are listings services, NOT online estate agents.
Which, if any, of the following online estate agents have you heard of? (Please select all that apply):
easyProperty
eMoov
Hatched
House Network
HouseSimple
Purplebricks
Tepilo
Other
I have never heard of 'online estate agents'
I have heard of 'online estate agents' but cannot name any
[Note: the brand names above were presented in random order to each respondent]
Demographics:
Gender: Male 45%, Female 54%
Age range: 18-24 2%, 25-34 11%, 35-44 17%, 45-54 23%, 55+ 48%
Social grade: ABC1 65%, C2DE 35%
Region: North 27%, Midlands 16%, East 9%, London 10%, South 23%, Wales 5%, Scotland 8%
Working status: Work full time 47%, Work part time 14%, Retired 29%, Unemployed 2%, Other 8%