Every year there are a series of industry prizes for the best estate agents in the UK. Entries cover a wide range of different areas and almost every aspect of the sector. Of course, what makes an agent 'the best' is not only somewhat subjective but depends on the criteria set – but here's what the judges say about the online agencies…
The ESTAs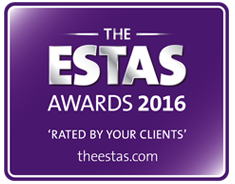 The ESTAs are the largest and longest-running awards in the UK property business. They started out in 2004, before the web really became a factor for estate agents. Now, their headline sponsor is Zoopla.
Agencies are nominated online at a cost of £230 for the first category, and £115 for each subsequent categories. The deadline for 2016 was 31 December 2015. Voting (by any clients who have used the agency in the course of the previous year) starts immediately upon registration and closes on 31 January, ahead of the awards ceremony on 15 April 2016.
In 2015, House Network took the Gold prize and HouseSimple the Silver in the Online Estate Agent category. It's the first year there has been a dedicated Online category, and the two winners were the only agencies on the shortlist.
The Negotiator Awards

The Negotiator Awards take a different approach and are judged by a panel of experts from the property industry. Submissions are via their website and the deadline is in July. This year the judging took place on 10 September at the Royal Automobile Club in Pall Mall, with the winners announced at a gala dinner held the London Hilton on 3 November, hosted by TV comedian and impressionist Alistair McGowan and complete with charity auction.
The 2015 contest saw 360 entries, more than ever before (unlike the ESTAs, it is free to enter which probably encourages a larger number of entrants). HouseSimple took the Gold award in the Online Estate Agency category, with StudentCircle taking Silver and Hatched.co.uk the Bronze. Vanessa McCallum Estates, Mint Homes and Assetz For Investors Ltd also made the shortlist, and online agencies were represented in a number of other categories, too, such as Innovator of the Year and Website of the Year. HouseSimple also picked up Gold in the same category in last year's awards, with the judges commenting, "This agency presents an innovative service with a transparent fee structure and impressive growth figures."
Estate Agent of the Year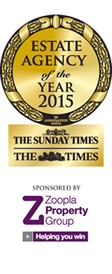 Lastly, there's the Estate Agent of the Year awards run by the Times/Sunday Times. They are primarily for traditional (physical) estate agencies, though online agencies do enter some categories such as Best Website and Best Social Media. This year, online agent hybrid agency EweMove won Silver in the Best Franchise. Hybrid agencies are those that combine a single online platform for managing a property sale with local agents on the ground.
In short if you want to know who the best online estate agent is you could look at the industry awards but remember many leading agents don't enter so you are advised to do further research, including, of course, on SellingUp.com.