Online estate agents are rapidly gaining prominence in the UK. Compared to their high street counterparts, they offer huge savings and a level of ease and convenience never seen before. Selling your property has never been so simple. But as online estate agents become more popular, more and more companies are entering the market to take advantage of growing demand.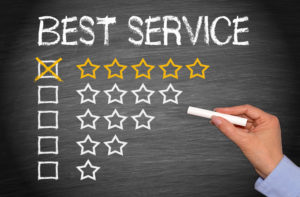 With so many vying for your attention, how do you choose the right online agent for you? Each offers a range of packages and services, for a variety of prices.
At sellingup.com, we make it easy for you to compare agents based on your own criteria, collating thousands of reviews from their existing customers. Here are the top 10, as rated by property sellers just like you.
At the top of the charts is sellmyhome.co.uk, with a customer review rating of 9.8/10. Launched in 2013, it's one of the newer online agents to the market, but it's seen big successes in its relatively short life. It won Estate Agent of the Year in 2017 and averages over 99% of asking prices. The company also boasts the largest average number of properties online at any time. Prices range from a pay now £595 (with a 30-day money back guarantee) to a no sale, no fee £1,499.
99Home proves that customer service needn't come at a premium. With a score of 9.5/10, the start-up offers a range of services with home-selling packages starting at just £99, rising to £999 for more comprehensive options. The company boasts round-the-clock customer service support, free valuations and aims to find you a buyer within two to three weeks.
eMoov, scoring 9.4/10, has property roots dating back to 1957, but has existed in its current form since 2010. The company puts a very strong focus on being the best in its field, and having sold £3 billion worth of property in 99% of all UK postcodes, claims to sell homes an average of five days faster than its competitors. Customers can choose an upfront payment option, or pay later, for a flat fee of £795.
Settled also scores an impressive 9.4/10. Launched in just 2016, the company has seen big investment from high-profile tech investor Thomas Teichman, who obviously has an eye for potential, having backed the likes of Lastminute.com and Notonthehighstreet.com. The company claims 98% of properties achieve their asking price or higher, and that it takes sellers an average of just 17 days to receive their first offer. Customers will enjoy full support until their sale completes, for a single fixed fee of just £499.
Also charting with a score of 9.4/10, Doorsteps' main selling point is its exceptionally low price, which lets you sell your property for just £99. The company – founded by teenage Ashkay Ruparelia – claims to achieve 99% of asking prices and agrees sales in just 20 days. The business has been fully trading for less than a year, but has rocketed to sixth largest online agent in this time, attributing its success to a straightforward business plan with a clear focus on service and savings.
Yopa ('your online property agent') is one of the better-known names in the online estate agency business, and has ambitious plans to maintain its prominent position. One of its unique selling points are its local agents, which provide the same services as other online estate agencies but with the added bonus of a comprehensive knowledge of your property's local area. Yopa's technology-driven service costs a fixed fee of £839.
Tepilo was launched by the well-known 'face' of property development, Sarah Beeny, in 2009. Originally designed as a free 'for sale by owner' service, the company rebranded as an online estate agency in 2013 and has enjoyed a premium position on the market ever since. With a review score of 9/10, Tepilo offers three packages, ranging from a basic offering at £645, to a premium service at £1,295.
Griffin Residential started life 30 years ago as a traditional high street agency, but now sits at the forefront of online sales. Its extensive experience selling properties both on and offline has earned it a respectable customer review score of 8.9/10. Although the company has a heavy digital focus, it also prides itself on its personal approach, so all customers have access to a dedicated account manager who's on hand to answer questions at any time. Griffin offers four sales packages, ranging in price from £295 to £890.
HouseSimple is another prominent name in the online estate agency market, and boasts a review score of 8.7/10. The company has won a raft of awards since its launch in 2007, including Online Agency of the Year in the Negotiator Awards in 2014, 2015 and again in 2016. HouseSimple has taken a pioneering approach to online property sales, trialling various packages and payment programmes – it was also one of the first to introduce a no sale, no fee option. Its fees currently range from a pay-upfront £495 to a pay-only-on-completion £995.