They say there's no such thing as a free lunch, and sadly that applies to estate agents, too. They're a business and they have to make money somehow, so giving their services away for free isn't going to fit with a sensible business model. That said, you may have spotted some companies offering 'no fee' deals.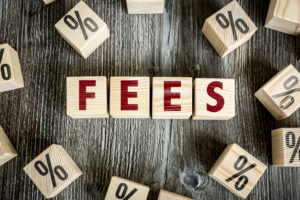 These may seem tempting, especially as you'll be trying to keep your costs low during the sales process. But make sure you read the small print. It could be the case that agents offering zero fee deals are doing so on the proviso that you use their recommended conveyancing solicitor or mortgage broker, which could prove more expensive than services you'd seek out yourself, or not of the quality you require.
Plus, tying yourself into contracts with these providers can be complicated and time-consuming in the long-run.
Realistically, you should expect to pay something for estate agent services, but how much you pay, however, depends on how carefully you choose.
For a long time, high street estate agents were your only mainstream option when it came to selling a property. The most expensive agents can charge up to 2.5%, sometimes 3%, plus VAT. This can add up to many thousands of pounds depending on the value of the property.
The cheapest online estate agents – like Griffin Residential – start their fees at as little as around £250. So if you're looking for an estate agent without fees, an online agent is the closest you'll get.
Don't make the mistake of thinking cost equals quality, though. Online estate agents offer all of the benefits you'd get with a high street agent – and in many cases more. Most online agents offer professional photography and floor plans as standard, and sales support and price negotiation is usually par for the course.
Many providers also let you choose add-ons, such as accompanied viewings packages, so you can completely tailor make your service. Plus, using an online estate agent puts your firmly in control of your sale, making the whole process more convenient: everything happens at a time that's best for you, and directly, without the middleman (although the 'middleman' is always on hand to offer help and support when you need it, even if it is only over the phone or email).
And of course, there's the ever-crucial exposure. Just like selling through a traditional estate agent, sell through a much cheaper online estate agent and your property will be featured on the likes of Rightmove and Zoopla, which means hundreds of thousands of potential buyers will have the opportunity to view it online.
So no, you are not likely to find a reputable estate agent that offers its services for free, but you will find many qualified online estate agents who offer tried-and-tested effective services for a low price. The online estate agent comparison tool, enables you to search by price among other criteria to find the one that's right for you.