Upad is the UK's second biggest online rental website (in terms of properties on the market). It has secured 40,000 lets in its time and advertising 10,000 properties in the last year alone, making Upad the major competitor to OpenRent.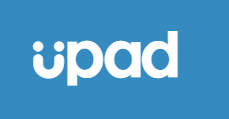 Upad was founded in 2008 by James Davies. He bought his own property aged just 23 before finding a job after university – a move into the property market which heralded major success. Soon, he was earning more from his properties than his full-time job, and that first property – purchased for £203,000 – is now worth more than £1.5m. UPad was Davies' response to what he felt was a limited choice of services for landlords (which he himself still is).
In 2012 the company saw major growth when it signed partnership deals with The Evening Standard and The Telegraph, providing both with private lettings services to their readers.
The company consistently pushes traditional property boundaries in response to a changing landscape. In December 2013, for example, it advertised the same property twice; once entirely unfurnished, and once furnished to a high standard throughout. After three weeks, 25 percent more people had clicked through the furnished property and 75 percent more had enquired about it. The eventual tenant came via the furnished property ad.
UPad makes bold but demonstrable claims about its offerings. Some 90% of customers have used its services more than once, and according to the company, UPad landlords have 45% less arrears compared to the UK average. In July 2017, it claimed it achieves property voids of just two weeks, compared to the typical three as promoted by the Association of Residential Lettings.
In early 2017, industry big hitter James Micklethwait – previously head of product development at Rightmove – joined the team, and not long after landlords across the UK voted UPad Best Online Letting Agent of the Year at the ESTAS awards.
Upad key Statistics
Properties currently available: 1,101
Average rent: £1,339
Average listing age: Six weeks
Number of lettings agreed: 40,000
Upad fees and services
UPad offers three service packages: standard, essential and complete.
The standard package costs £120 and includes property advertising on Rightmove, Zoopla and Prime Location, plus tenant enquiry management and tenant referencing (free for landlords, £75 charged to the tenant per tenant).
Essential includes the above, plus a drafted tenancy agreement, deposit registration, first month's rent collection and a standing order mandate.
The complete package includes all of the above, plus professional photos and floor plan.
Optional extras can also be purchased, ranging from £90 to £169. This include:
Photography and floorplans
Inventories
Tenant sign-up services
Rightmove featured / premium listings
Rent protection insurance
Gas safety certificates
Energy performance certificates.
UPad also offers a fully managed package at a cost of £599 which includes advertising, professional photos and a floor plan, the paperwork and the setup fee for full property management. Thereafter there is a management fee of £72 per month.
Portfolio landlords can also take advantage of discounts on multiple standard advertising credits. If you have more than one property to advertise, either now or in the future, you can save by purchasing multiple Upad Standard credits in advance. Credits never expire, so you can use them whenever you like. Example savings include: buy three, get one free (£360); buy five get two free (£600); buy 10 get five free (£1,200); buy 20, get 12 free (£2,400).
Market position
UPad is a major player in the online property rentals sector, and its prices reflect its award-winning service. Its fees are higher than its main competitors' by a large margin, but you get more bang for your buck. Things which cost extra elsewhere, such as paperwork completion, referencing and deposit registration, are included as standard in most of UPad's packages. It scores very highly in terms of customer service, too. Of nearly 1,000 reviews on independent reviews website Trust Pilot, it scores an average of 9.5/10. Here are some examples of recent feedback:
"Excellent service at a very reasonable price, far better than any of the high street letting agents for a fraction of the cost. We wouldn't use anyone else now. We've found tenants within a week each time we've used them keeping our tenancy periods virtually seamless" – Andy White, 13/08/17.

"Very easy, very efficient, inexpensive and I always get lots of good enquiries quickly so that vacant flats are let without delay" – Bob Bridges, 02/08/17.

"As a novice to uploading my advert I found the whole process straightforward and the system was very easy to use. The guides and advice are spot on – take the time to read these. My place rented out within 24 hours! I then found the whole process of suspending my ad very easy too. Love this website … saved me a fortune in going through an agent! Would highly recommend" Rachael Griffiths, 28/07/17.
Visit Upad website for more information
What UPad says
"With Upad, you are in complete control of letting your property and rather than offer an inflexible and expensive package, you pick and choose the services you need from us."

"By advertising through Upad you are giving yourself the best chance of finding the perfect tenant for you and your property."

"We're proud of our reputation and happy customer base of over 12,500 landlords. Many of our customers come to us via word-of-mouth through our customers spreading the word for us."
More about Upad
Upad TV advert