There are lots of elements involved in selling a property, but one of the most important parts is the viewing. After all, this is where potential buyers get to 'look at the goods', whether an investment property or their forever home.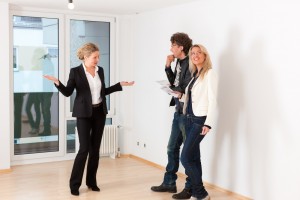 Many sellers – especially those attempting to save money by using an online estate agent – are happy to conduct viewings themselves. And there are lots of benefits to this DIY approach.
No-one knows your property and the local area like you do, for example, which can be reassuring and helpful for potential buyers.
You also get to meet potential buyers directly, which means you can get a feel for how serious they are about your property, rather than relying on an estate agent's feedback. And then, of course, you are able to conduct viewings at a time that suits you – you're not beholden to an estate agent's appointments book.
That said, there are a number of reasons why you might not want to conduct viewings yourself. For a start, modern life can get pretty hectic and once you take work, family commitments and your social life out of the equation there can be very little time left for anything else.
Or you might feel it's better to keep potential buyers at arm's length. Or you simply might not feel confident dealing with strangers, especially when huge amounts of money are at stake. There's no right or wrong approach to who conducts property viewings, whatever works for you.
With traditional high street estate agents, you can expect viewings to be conducted for you on the whole, but bear in mind you'll pay a premium for this as that service forms part of the justification for the commission fee.
With an online estate agent, you have a choice. If you're happy to conduct viewings yourself, you can potentially save money by opting for a purely 'DIY' agent which will offer everything you need to get your house seen by buyers (advertising on Rightmove, for example) but leaves other elements, such as viewings and negotiation and sales progression, down to you.
If you'd rather have viewings taken care of by someone else but don't want the hassle and expense of using a high street agent, you could choose an 'hybrid' online agent, such as YOPA.
One of the fastest growing online agents, YOPA has built up a network of local property agents who can either conduct viewings for you or arrange for a viewings assistant to do so.
This viewings service is additional to the main fee so you need to consider if you are willing to pay extra to have someone show buyers around for you. For some it is a must have service, while others would rather conduct the viewings themselves and save the money.
Other agents like HouseSimple also offer conducted viewings as an extra add-on, meaning you can completely tailor-make your online estate agent experience.
What happens if you find an online agent you like but they don't openly offer a viewings service? Ask them! Some agents, such as SellMyHome, offer conducted viewings even though it's not promoted as part of its core service. All online estate agents are easily contactable online and most are extremely responsive, so you've nothing to lose by asking.
With a growing number of online estate agents on the market, it can be difficult to know which to choose, especially if you have specific requirements. Make things easier by visiting SellingUp's online estate agent comparison tool, where you can filter your search by criteria such as cost, rating and services offered, such as house viewings.
Find out more about these online estate agents that conduct viewings: