One of the biggest reasons property sellers choose an online estate agent is because they can represent significant savings compared to high street estate agents. Sell with a high street agent and you'll receive a bill (often rather hefty) once the deal has completed.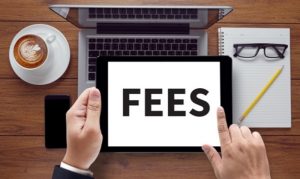 This is usually for a percentage (typically 1-2%) of the sale price of the property with VAT added at 20%. So while you might have a rough idea of how much selling through a high street agent will cost you, you won't have the final figure until the end of the sales process, which can sometimes come as an unpleasant surprise.
Most online estate agents, however, charge a fixed upfront fee instead of a flexible commission. The reason that online agents usually charge upfront is that they are receiving lower fee payments from sellers and as such they need to reduce their risks and keep on top of their cash flow in order to stay in business.
Charging an upfront fee means they know exactly how their accounts are looking at any given point, while you, the seller, often pay a much lower price than you would with a traditional agent, and you know straight off the bat how much the sale will cost you.
To reassure some property sellers who are worried about paying a fee upfront, one agent in particular, HouseSimple, offers a pioneering service that gives you the best of both worlds: a fixed fee that doesn't have to be paid upfront.
HouseSimple is an award-winning company which was launched in 2007 and is now one of the UK's top three largest online estate agents. It is known for its innovative approach to pricing, and its no-sale- no-fee option is no exception.
For a premium on its standard upfront fee deal (£995 compared to £595 – correct at the time of writing) you can choose the option to only pay if and when you sell.

HouseSimple's own words are: "Only pay if you sell. No tie in or cancellation fee."
For comparison if you sold a property for £400,000, with a typical high street agent you would pay a commission £7,200 (1.5% plus VAT), compared to the fixed VAT inclusive amount with HouseSimple of £995. That is a saving of £6,205 and theoretically the risk is the same, as with both you only pay if you sell.
That's one less thing to worry about while you're selling your property – and when the time comes to pay, you know exactly where you stand.
All of HouseSimple's packages (pay upfront, pay later and a 'no sale, no fee' option include the same benefits: valuation guidance, professional photography and floorplans, 24/7 viewings and feedback systems and six months' marketing on over 500 property websites, as well as professional negotiation and sales progression.
If you're not sure whether you want to pay upfront or pay later, or even if you're not sure about using an online estate agent at all, HouseSimple offers a weeks' free trial, which includes a free property valuation, so you can get a feel for the process before making a commitment.