If you're considering selling property through an online estate agent, you've probably heard a few of the main names either on TV, in the media, or maybe in conversation. You might be familiar with the name HouseSimple, but what does it offer, and is it any good?
Who are Housesimple?

Housesimple was launched in 2007 by married team Alex and Sophie Gosling, who between them had 30 years of property expertise. They saw the potential for an online estate agency business, got to work, and had soon grown arguably the UK's second-largest online estate agent.
The company has won a raft of awards, including Online Agency of the Year in 2014, 2015 and 2016, and last year received a significant cash investment from Carphone Warehouse founder Sir Charles Dunstone – a respected businessman who has publicly praised HouseSimple's innovative approach to property sales.
What does 'good' mean to you?
The criteria that make an online estate agency 'good' are as subjective as the criteria that make a particular property appealing – it comes down to personal requirements. While you might want the best deal available, someone else might be after a quick sale, for example. Here are HouseSimple's credentials (all information correct at the time on writing – to confirm details visit Housesimple):
Packages starting from £595, which puts the company in mid-position on our price table.
Over 8,000 properties sold.
99% achievement on asking price.
Average property listing age: 15 weeks.
Successful completion on 85% of property sales agreed (compared to 70% for high street agents).
Sales agreed in an average of 25 days.
In terms of service, HouseSimple offers property sellers:
The option to defer payment.
A 'no sale no fee' option.
A free trial.
A free home valuation visit.
Plus all the features of its property selling package, which includes things such as professional photography and negotiation support.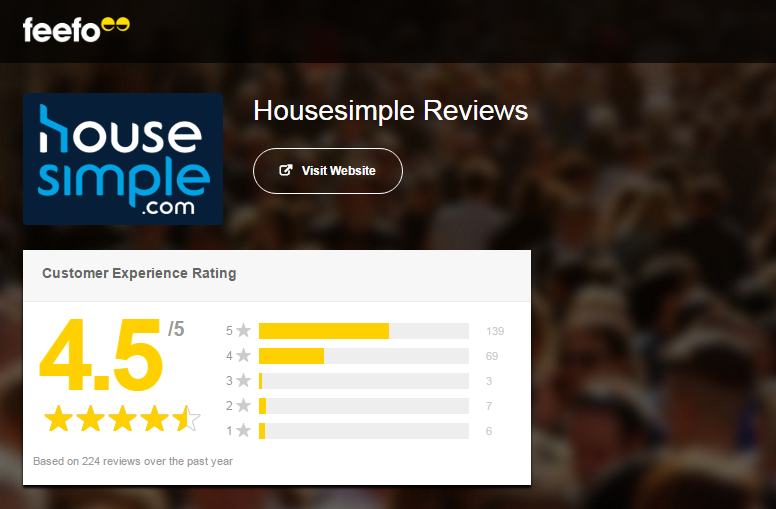 What do customers say?
HouseSimple scores well on independent reviews sites Feefo and TrustPilot, with recent customer feedback including:
"I had a great experience with HouseSimple. Whenever I had questions I could phone for help. It was much simpler and more professional than I was expecting" – Angela, 17/07/17

"Excellent service, would definitely use again. Always someone at the end of a phone or email for assistance, a genuine alternative to the usual high street agent" – Gavin Leel, 16/07/17

"The whole experience was better than using a high street estate agent and the money I saved was approximately £4,300. I would recommend them to everyone" – Andrew Humphreys, 15/07/17