If you're looking at rental websites with the view to marketing your property online, you'll want to make sure you get the right service for your specific needs. Here, we pit the UK online rental market's biggest hitters, Upad and OpenRent, against one another, so you can drill down into the finer details to choose an agent that's best for you.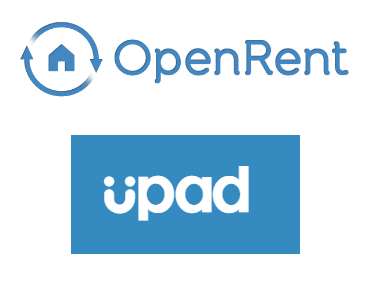 OpenRent is the UK's largest online rental agency, with more than 802,000 registered users and advertising more than 50,000 properties last year alone.
Launched in 2012, the company has seen major investment interest and operates under the ethos that renting should be fairer, safer and cheaper for everyone.
UPad, OpenRent's closest rival, was founded in 2008 and has impressive talent on its books, including James Micklethwait, formerly of Rightmove. The company has secured lucrative deals with a number of media names, including The Telegraph and The Evening Standard, and in 2017 was voted Best Online Letting Agent of the Year by its thousands of satisfied landlord customers.
Year established
2008
2012
Where based
London
London
Number of properties for rent
1,101
3,063
Average rental price
£1,339
£1,166
Average listing age
Six weeks
Four weeks
Number of lettings agreed
10,000 last year
50,000 last year
Contact and opening hours
Via email or phone:
Mon-Fri 8am-8pm
Sat-Sun and Bank Holidays 9am-4pm
Via email or phone:
Mon-Sat 9am-6pm
Free trial
No
Yes, plus first advert free
Tenant admin fees
For referencing, £75 per tenant
For referencing, £20 per tenant
Tenant referencing
Included with all packages
Available as part of 'Rent Now' package (£49) or for one-off fee of £20
Gas safety / energy performance certificates
Yes, for an additional £99 each
Yes, from an additional £45 each
Optional extras
Yes. Examples: Inventories (from £120), photography (£99), rent protection (£159).
Yes. Examples: Inventories (£85), photography (£79), rent protection (from £55)
Listings sites used
Rightmove, Zoopla, Prime Location plus own Upad portal
Rightmove, Zoopla, Prime Location plus own OpenRent portal
Maximum listing age
Three months.
Until let.
Property management option
Yes, for one-off fee plus monthly payments
No
Note: information above sourced from Zoopla plus agent own websites. Every effort is made to ensure accuracy and all is correct at the time of publication.
Visit Upad website for more information
Vist OpenRent website for more information
Why choose an online lettings agent over the high street?
Being a landlord can be hard work, but it's a much easier job if you're able to rent out your property with minimal hassle to tenants that will be respectful and considerate. And if, of course, you can keep your costs down in the process.
Online rental websites have grown considerably in popularity in recent times, thanks to the increased ease and efficiency they afford landlords, not to mention savings, when compared to a traditional lettings agent. In fact, they're quickly overtaking online sales platforms.
Purplebricks, for example, is the biggest player when it comes to online estate agencies, but it's still significantly overshadowed by rental websites in terms of userbase size and activity. This makes sense, of course. The rental market moves far more quickly – and conducts far more transactions on a daily basis – than the sales sector.