Our exclusive dream home survey reveals the 18 features that will make your property more desirable to buyers – plus two that probably won't…
After location, size and condition, it's a property's special features that are the key to selling it quickly and for a great price.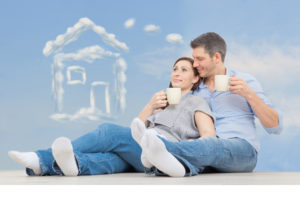 But what are the features that make the biggest difference to the desirability of a property?

Is the old adage that kitchens and bathrooms sell houses really true?
Should you rip out those old-fashioned period features or do they add value?
How do modern high-tech features compare with traditional Aga ovens and wood burning stoves?
SellingUp.com has conducted an exclusive survey of 2000+ people with Populus, one of the UK's leading market research firms, to examine which features buyers would actually want to find in their dream home and which they can live without.
Survey Question
Imagine you were looking for a dream house to buy and money and space were no object. Would each of the following special features make a property more desirable to you as a buyer, less desirable or make no difference?
Table of Results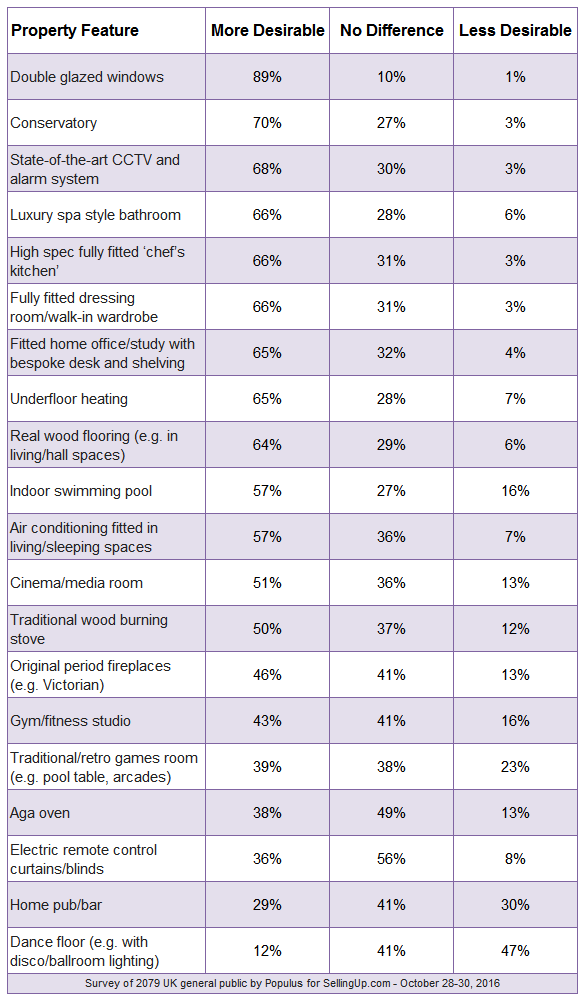 Analysis of findings
Clear win for double glazed windows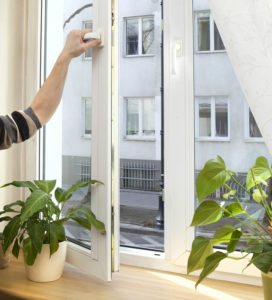 By far the most desirable feature (89%) may not be the most unusual but it goes to show how much people really do value the benefits of double glazed windows.
Whilst it provides excellent sound insulation, it is the energy saving benefits of double glazing that are probably the driver of its popularity.
Heating bills have risen steadily in the past several years and the prospect of doing away with draughty old windows is clearly appealing to many home buyers.
The older generation are particularly keen on double glazing, with 98% of 65+ aged respondents saying it made a property more desirable compared with 82% of 18-24s.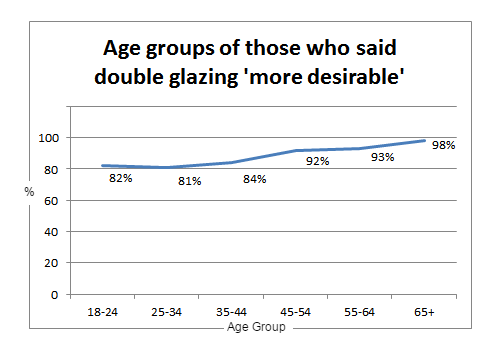 Conservatories light up interest
The second most desirable feature after double glazing is made of exactly the same stuff – the classic conservatory. A sizable 70% of respondents cited a conservatory as making a property more desirable to buy with just 3% against having one.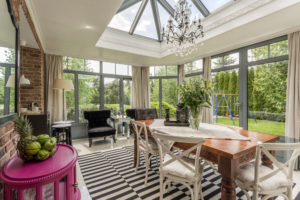 The famously unreliable British weather may play a part here, as conservatories offer the perfect solution to getting a light and airy outdoor dining and relaxing experience whatever the weather.
As with double glazing, it is the older generations who are especially attracted to conservatories. The desirability of conservatories increases in direct relation to rising age groups.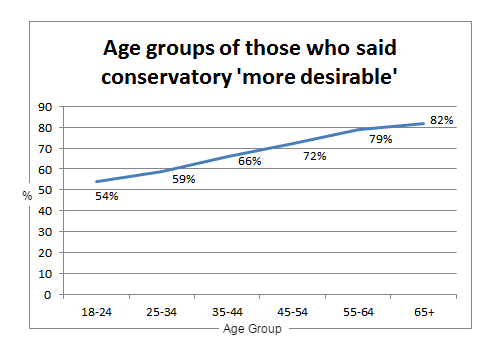 Kitchens and bathrooms DO sell houses
It's an old property market saying that kitchens and bathrooms sell houses, and now here is some evidence that it's true. Equip your property with a spa style bathroom and top of the range kitchen and a large majority of buyers will instantly consider it more desirable to buy.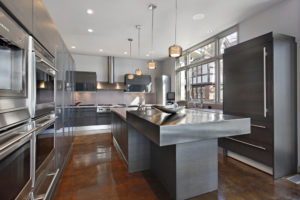 Exactly two-thirds (66%) of respondents were in favour of a 'chef's kitchen' and the same number wanted a spa bathroom. When subtracting those who weren't keen (6% against the bathroom and 3% against the kitchen) it appears that high-end kitchens were the slightly more prized of the two.
Historically, the (very old-fashioned) view that the kitchen is traditionally a female domain may have prevailed but in recent years more and more modern men seem equally at home doing the cooking – so were there any gender differences in terms of how desirable a top spec kitchen would be?
Hardly at all. Of the men asked, 65% said a chef's kitchen made a property more desirable, compared with 66% of women.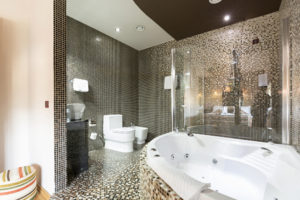 When it comes to the spa bathroom however there was evidence of a modest gender gap, with women preferring a higher level of domestic pampering than men. A total of 70% of women opted for a spa bathroom compared with 62% of men.
Proper wood flooring is the real thing
Real wood is often presented as popular option for those who are after a warm, smart floor that's easy to clean compared to carpet. But how desirable would a wooden floor really be to the average property buyer?
The answer is very desirable. Real wood flooring was preferred by 64% of respondents, with only 6% saying it was the less desirable option.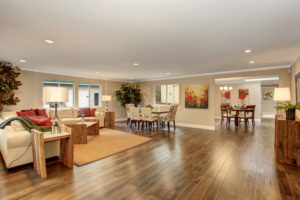 There were hardly any differences between genders and age groups – real wooden flooring was one of the most universally popular features in the survey.
Underfloor heating gets warm reception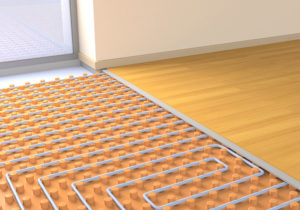 Underfloor heating is an increasingly popular alternative to radiators and the demand looks set to rise with no fewer than 65% of people saying it make a property more attractive and just 7% against.
Among the claimed benefits of underfloor heating are that it spreads the heat more evenly around the house and keeps the temperature at a consistent level, as well as freeing up valuable wall space once occupied by radiators. On a simpler level, the prospect of having a cosy, warm floor to walk on with bare feet on a cold winter morning could be a factor too.
The appeal of underfloor heating is high across the age ranges, although it is the 35-44 age group that prizes it the most (73%) and 65+ the least (56%) – which is still a comfortable majority.
Air conditioning makes a cool choice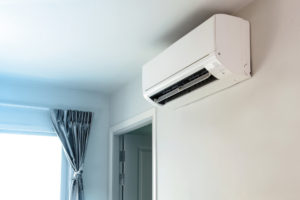 Air conditioning used to be something that Brits only experienced in their cars or on holiday, but more people seem to be seeking the benefits of breeze at home.
Fitted air conditioning units in sleeping and living areas were wanted by 57% of those polled, with just 7% not wishing to have it in a dream property purchase.
The appeal of air conditioning was not significantly related to gender, and was desired almost equally by the majority of people in every age group.
Media room pushes right buttons
The presence of a home cinema/media room increased the star quality of a property for just over half (51%) of people, while turning off 13%. The survey suggests that there is a generation gap, with the age group most positive about a home cinema being the 35-44 year olds (69%). Perhaps this age group are the 'settled downs' who have left their pubbing and clubbing days behind and are quite happy to put their kids to bed and relax in front of a box set with a bottle of wine.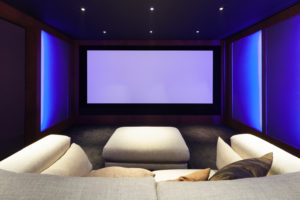 The youngest group polled, 18-24s, were also very positive (68%) but in contrast, by the age of 65+ only 21% wanted a home cinema/media room – perhaps fearing the technology or maybe preferring to socialise outdoors.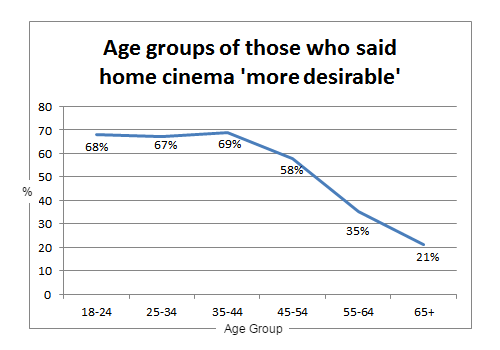 Games room is winner for men
It's a cliché that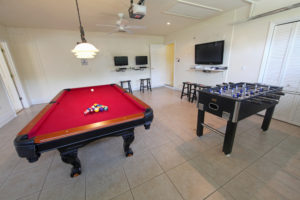 many men want a 'man cave' – a place of refuge to indulge in games and general harmless fun – but now here is some hard evidence to back it up.
Almost half of men (47%) stated that they actively wanted their dream home to have a traditional games room with pool table, arcade machines and so on, versus 31% of women.
The average across both genders was 39% in favour of a retro games room, versus 23% against having one. The 18-24 age group were most positive about a games room with a majority of 52% in favour compared with just 16% of those 65+. Perhaps the older generation prefers to play bingo, bridge and bowls out of the house?
Fireplaces and log burners are hot
Wood burners are designed to bring a cosy countryside feel to any home – urban or rural – so it's perhaps not surprising that 50% of all respondents said it would make a property more attractive to them, compared with 12% who disagreed. The appeal of a wood burner is fairly even across genders and age ranges.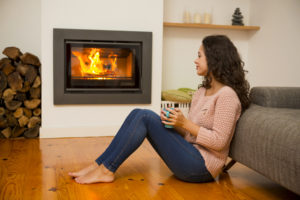 A related feature that has long divided house buyers – especially property developers – is the period fireplace. The benefits of weighing up an attractive classic feature against freeing up usable wall space seems to be at the heart of the dilemma, but what do the general public think?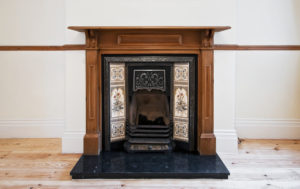 Almost half (46%) of respondents are in favour of a property keeping its original period (typically Victorian or Edwardian) fireplaces, with 13% taking the opposite view and the rest not minding either way. That sounds like a fairly convincing win for the pro-period fireplace argument.
It's worth noting that it's not necessarily the older generation who like this period feature – 44% of 18-24s were positively for it compared with 36% of 65+ for whom perhaps the charm has slighty faded.
Traditional Aga is for all ages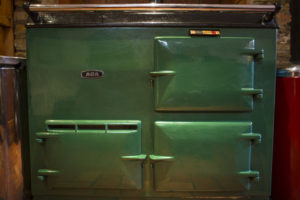 The overall average who said they would specifically like to see an Aga oven in their dream home was 38%, significantly higher than those against (13%).
However, much like the trend for young people joining the Women's Institute, it seems that the Aga oven is no longer the preserve of older, 'country kitchen' types.
More 18-24s (40%) than 65+ respondents (32%) said an Aga made a property more attractive to buy.
Electric blinds are smart home move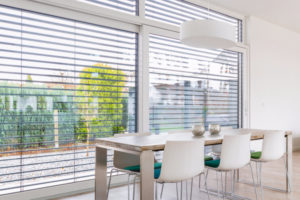 Remote controlled blinds and curtains may sound to some like a feature from the smart home of the future but they are here today and rapidly gaining popularity, especially in high-end properties.
In the dream home survey, 36% said the presence of electric blinds or curtains would be a definite draw, versus 8% who preferred the manual variety.
The preference between genders was identical at 36% in favour, and across age groups ranged between 44% (18-24s) and 28% (65+).
Home gym makes property attractive
A healthy 43% of those surveyed said a home gym would make a property look better to them, with 16% taking the contrary view. What's probably not a surprise is that the younger the person asked, the keener they were to have a home gym/fitness studio: 61% of 18-24s as opposed to 17% of 65+.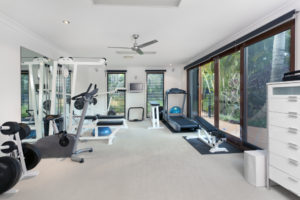 However, with an aging population and an obesity crisis looming perhaps home gym equipment providers may be looking to turn this around and promote their equipment to all generations – not just the already more gym-friendly younger age groups. The gender split for a home gym was quite close: 40% of men versus 46% of women.
Custom made rooms fit the bill
Just like with clothes, it's always better when furnishings fit perfectly, which is no doubt why fitted dressing rooms and home offices are so sought after.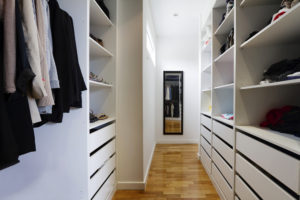 Exactly two-thirds (66%) of people said a fitted dressing room/walk in wardrobe made a property more desirable to buy with 3% against. Men were very positive about it (57%) but it's an especially big selling point for women (74%). Across age groups there was hardly a difference in preference for a fitted dressing room, showing a particularly even appeal across the demographics.
Almost the same number of people (65%) wanted their dream home to come complete with a fully fitted home office, and just 4% not wanting it. The gender split was more even for those seeking this feature – men 67%, women 63%. As with the fitted dressing room, the age groups of those wanting a bespoke home office hardly affected preference.
CCTV and alarms could secure sale
More than two-thirds (68%) of respondents said a high spec CCTV and alarm system would make a property more appealing to buy, with just 3% against, making it the third most sought-after feature in the survey.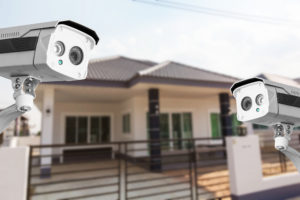 Despite the image of the security conscious older person, it is actually the younger generations who appear take home security most seriously, with 72% of 18-24s versus 63% of pensioners selecting 'more desirable'.
It is possible, however, that the older generations were slightly put off by the prospect of dealing with a high-tech system, perhaps preferring more low tech measures like window bars.
There was barely any difference between men and women in terms of preference for this feature, with both strongly in favour.
Indoor pool always makes splash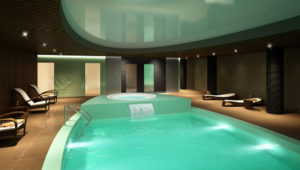 An indoor swimming pool has always been presented as a sign of luxury living, so perhaps it's no surprise that more than half (57%) of respondents liked the idea of owning one, although 16% were not in favour.
Interest in owing an indoor pool was highest among the 18-24s (69%) but dips to 38% for the 65+ age group, mirroring the demographic pattern for the home gym. Women were marginally more excited about the experience of swimming at home (59%) compared to men (55%).
…but strictly NO ballroom (or bar)
With Strictly Come Dancing dominating the weekend evening viewing for millions of Brits, you may have thought that the prospect of twirling on a dance floor at home would be too good to resist. Apparently not.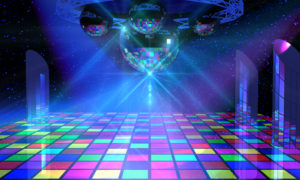 More people (47%) answered that a dance floor in a property would make it less desirable than more so (12%). While the dance floor was relatively unpopular across all age ranges it was the 65+ group where it scored particularly low with just 2% liking the idea. Women were slightly more positive (14%) than men (11%) about a home dance floor but not enough to bring the average up significantly.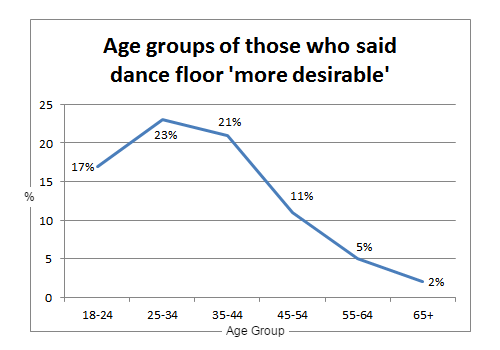 What about toning down the idea of a full on dance floor and having a home drinks bar instead? According to the survey, a home pub.bar will not help if you want to appeal to older buyers either.
Just 9% of 65+ group fancied a drink at a home bar, but the 18-24s were more glass half full about it (42%).
Distilling the data, an average 29% of respondents raised a glass to the prospect of a bar at home, but for 30% it was last orders for that idea making it, along with the dance floor, the only special feature to receive an overall negative rating.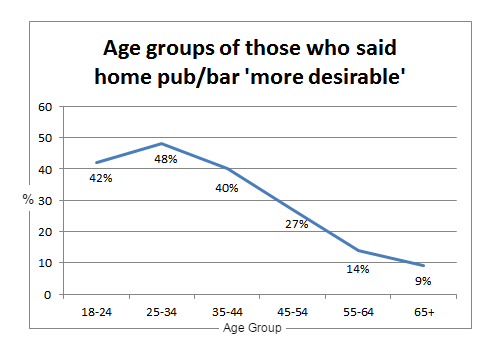 Net desirability scores
For each feature Populus asked if it made it more desirable, less desirable or no difference. Some features split opinion so in order to work out which is actually the most wanted overall SellingUp has done a simple calculation: Number of 'more desirable' – 'less desirable'= Net desirability (score in brackets below). Here is a round-up of all of those scores for the features covered by the survey:
Double glazing (+88)
Conservatory (+67)
State-of-the-art CCTV and alarm system (+65)
Fully fitted dressing room/walk-in wardrobe (+63)
High spec fully fitted 'chef's kitchen' (+63)
Fitted home office/study with bespoke desk and shelving (+61)
Luxury spa style bathroom (+60)
Real wood flooring (e.g. in living/hall spaces) (+58)
Underfloor heating (+58)
Air conditioning fitted in living/sleeping spaces (+50)
Indoor swimming pool (+41)
Cinema/media room (+38)
Traditional wood burning stove (+38)
Original period fireplaces (e.g. Victorian) (+33)
Electric remote control curtains/blinds (+28)
Gym/fitness studio (+27)
Aga oven (+25)
Traditional/retro games room (e.g. with pool table and arcades) (+16)
Home pub/bar (–1)
Dance floor (e.g. with disco/ballroom lighting) (–35)
About the Survey
On behalf of SellingUp.com, Populus interviewed a random sample of 2,100 UK adults aged 18+ from its online panel between 28-30 October 2016. Surveys were conducted across the country and the results have been weighted to the profile of all adults in the United Kingdom using age, gender, and government office region, social grade, taken a foreign holiday in the last 3 years, tenure, and number of cars in the household and working status. Populus is a founder member of the British Polling Council and abides by its rules
More information
If you would like more information, including requests for demographic breakdowns for specific feature topics; additional comment for quoting in articles/blogs; permissions to republish material or anything else please contact us