Selling a property has long been viewed as a long-winded and laborious process, but thanks to the rise of online estate agents, there is the very real prospect that sellers could be signing on the dotted line faster than ever before.
In fact, according to research by Which? properties sell on average 38 days faster through an online estate agent than a traditional agent, thanks largely to the technology they use to streamline the process.
Quick and easy communication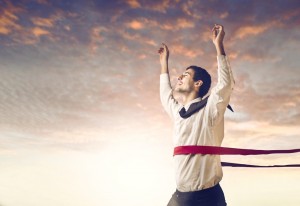 Online estate agents deal with everything digitally – often around the clock – so you could have a better chance of getting a swift response to any questions you have, rather than waiting for a time that's convenient to a traditional agent.
No office-based appointments
Selling a property through a traditional estate agent often involves at least one in-office appointment to discuss requirements, costs and negotiations. This can be extremely time-consuming, not to mention inconvenient, since estate agents very rarely operate outside everyone else's working hours.
With an online estate agent, you're usually able to submit all the information necessary to get the ball rolling on a sale via an online questionnaire, which can be completed at a time that suits you. Plus, you're able to research different agents at your own pace without being subjected to any hard selling from traditional agents.
Convenient property viewings
Selling a property through a conventional estate agent usually means dealing with a middle man when it comes to viewings. Is the time convenient for you? For them? For the potential buyer? Organising these can involve a lot of time-consuming back-and-forth. Use an online estate agent though and you could eliminate the middle man entirely if you want to. It's often up to you and the potential buyer to organise and conduct viewings – handy if time is of the essence in your sale.
Fast exposure for your property
Choose an online estate agent and your property could be in front of potential buyers sooner than it would be if sold through a traditional agent. Conventional agents may spend time producing marketing materials like fancy brochures. Furthermore, even though many of them have an online presence, their digital marketing may in some cases not be as effective as a company that already exists solely online. Plus, online agents often allow you to take your own photos and submit the property descriptions to them yourself in a matter of minutes. Make sure you have a good camera though, as quality of image is vital.
Sell fast for a great price
Selling your property quickly doesn't mean compromising on price, either. If you invest time in researching your market you can arrive at an accurate valuation and you could enjoy serious cost-savings. Many online estate agents charge a fixed price for selling your property which often proves considerably cheaper than traditional agents' fees. So you can enjoy a fast sale and a top price, and there's no compromise for convenience.