Damp is one of the most serious issues that can arise in a property survey and as such can have a major impact on saleability. Whether the damp that your buyer's survey refers to is actually present or there is simply reference to a potential problem, the mere mention of 'the D word' could be enough to scare them off – or provide the perfect excuse for a substantially reduced offer price.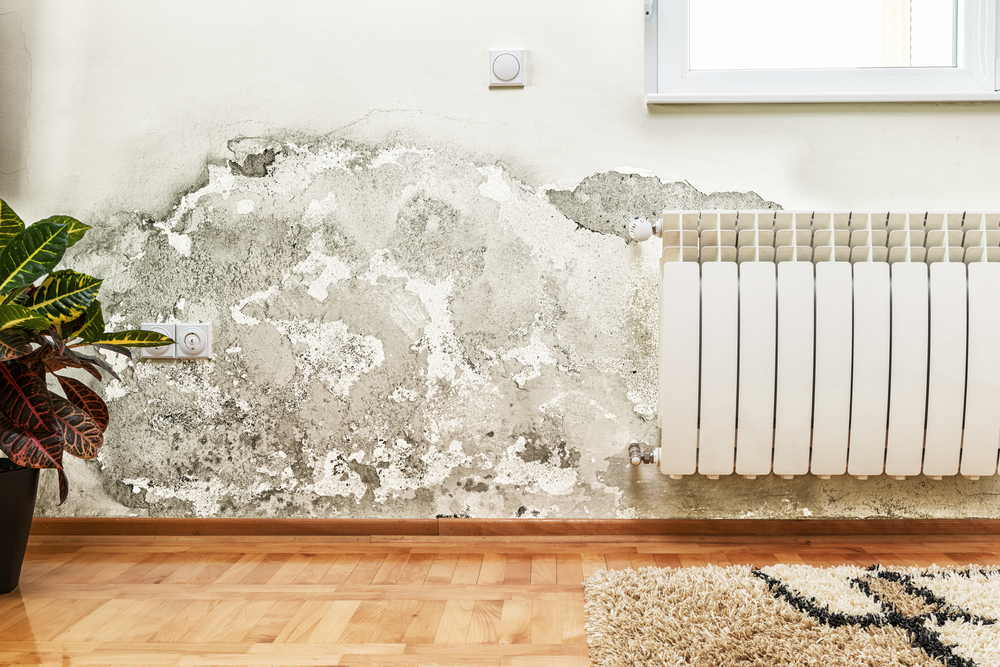 It's not just buyers who may be concerned by damp in a property for sale – it can raise a red flag with their mortgage lender which may reduce the amount it is prepared to loan, which could even lead to the sale collapsing.
But what actually do we mean by 'damp', is it really the potential property selling dealbreaker that vendors are often led to believe and what approach should you take to damp proofing and treatment?
SellingUp.com spoke to four leading UK damp proofing and treatment experts to get their professional take on the topic.
SellingUp's Expert Q&A: Damp proofing
What are the most common types of damp and what are the tell-tale signs to look out for in my property?
Daniel McLean from Rochester Building and Damp: Forget about 'types' of damp; it's what's causing the damp that's important. The word 'damp' itself is only an umbrella term; it is not one thing. A wall can be 'damp' for many reasons; all these reason involve water. But 'damp' hasn't made the wall damp'. To simplify this further, either damp is an ingress (permeation of masonry) or there are mould and mildew issues (which 'indicates' but 'isn't unique to' elevated atmospheric moisture content i.e. restricted ventilation).
Signs to look for: mould and mildew (especially stachybotrys aka 'toxic black mould'); damp patches upon a wall's surface; peeling wallpaper/paint; rotten timber: skirting, sills, door-frames etc.; a noticeable damp or must smell; discolouration of walls, ceiling or timber; unexplained and expanding damp patch on the carpet; condensation on windows, walls or possessions; loose plaster (internal) and loose render (external).
Ray Betts from Ray Betts Damp Proofing: The most common types of damp are rising and penetrating damp. The most common signs of this are staining just above the skirting board level. Penetrating damp is usually caused through the roof or the brick work and or render and this can be found anywhere in the property and again, large stains can be seen.
Gary Slater from A Slater and Son: The most common types of damp are rising damp, penetrating damp and condensation. The tell-tale signs are as follows.
Rising damp: damp patches to the base of masonry walls, this can also include rotten skirting boards/floorboards and plaster. this is a very destructive type of damp and will only get worse until it's treated.
Penetrating damp normally shows up on the inside of external walls, normally when the walls are built with no cavity or single leaf construction. Damp of this type will come and go depending on the source of the damp i.e. weather/leaking pipe.
Condensation is probably the most common type of damp and most mis-diagnosed as well. This can show anywhere in cupboards/walls/ceilings etc. this shows up as black mould and in worse cases can have a fungi growing on it.
Simon Cooper from All Dry Damp Proofing: There is more than one type of damp that affect properties. The weather, season and type of property all can have an effect. Recently and in the future we will see an increase in condensation and high humidity within a property and all the problems that are associated with it like black spot mould, bed bugs, viruses and dust mites (due to inappropriate cavity wall insulation under the government's 'Green Deal'). All of these thrive in conditions of high humidity and create the perfect environment for them to breed. Other types of damp in properties are rising damp, penetrating damp, sulphate contamination (chimneys) and all these bring problems if left with associated issues of decay like wet and dry rot, a whole host of funguses as well as beetle infestation of which there are many types.
How treatable are the typical types of damp and are there any that can never be completely prevented or eradicated, e.g. in basements of old period properties?
Rochester Building and Damp: All damp can be eradicated; never believe anyone who tells you otherwise. 'Damp' encompasses a myriad of perceived issues within a property. It is not a singular entity that can be treated with a miracle product installed by an unscrupulous company. Damp requires rectification through identification of the source and a specific course of action that ensures it will not return.
The ideal solution for a damp basement would be to expose the retaining perimeter walls below ground-level externally and treat accordingly. This course of action would be prohibitive for many reasons; but that's not to say works completed internally within the basement which suppress and conceal are not a 'cure'. If works inside the basement are completed effectively and the ingress is indefinitely suppressed, then you don't have damp in your basement.
In regard to 'typical' occurrences of damp; it's all reasonably straightforward to fix. Although be aware, invasive works will be accompanied by dust, noise and building materials being brought into your property.
It should be noted that in many instances, rectifying the cause of damp can be quick and easy; a missing roof-tile for instance. However, invasive works may still be required if rainwater from that missing tile has caused major damage to the ceiling and plaster in the bedroom below.
Ray Betts Damp Proofing: Most damp related issues can be cured, various methods have been tried and tested over the years, and if you have a competent contractor, eradication should not be an issue. The key is correct diagnosis.
A Slater and Son: Rising damp is probably one of the hardest to treat, there are many different ways of treating rising damp such as creams/liquids etc. We treat rising damp by fitting a physical damp course. This means we cut out and fit a plastic liner to replace the broken down damp course and we guarantee this work for a period of 30 years.
Penetrating damp is caused by water forced onto the external side of the wall for a period of time, such as leaking gutters/pipes/raised grounds. It then travels through to the inside of the property. As long as the source of the problem is fix/treated and well maintained this type of damp is easy to resolve.
Condensation is a mould which will grow on any surface in any room which lacks the right amount of heat/ventilation. This type of damp can be a stubborn one to get rid of but by doing just a few simple things such as opening windows, putting heating on, not drying clothes indoors, treating black mould with mould killer you should be able to resolve this problem.
All Dry Damp Proofing: All damp is treatable but what you need to remember is a property is like a car and there is a need to maintain it. Basements in old houses were built as a store room and were also built to manage water coming in and out. They have drains in them and water could come in and drain out of its own accord. Of course, this rarely happened back in the day but now we have more properties there are millions more gallons of surface water going into the drains and they back up as they can't cope with the flash floods.
The main two ways to convert a basement is a Type A barrier or a Type C drained system. The type A system normally involves a cementitious render and waterproof slurry being applied to create a tank. This is sometimes called tanking and in theory you could fill it with water like a fish tank and the water would stay in and stay out. The type C system uses membranes and sump pumps to manage water coming into the basement working like a swan's legs below the water to keep the inside of the basement nice and dry. this way no forces are placed on the structure. Adequate ventilation must be regarded to though.
Are damp prevention measures ever worth investing in before I have a problem or is it more economical to wait until treatment is needed?
Rochester Building and Damp: This is entirely dependent on personal circumstances and I don't just mean finances. If the lead flashing has come away from the parapet wall, with potential to cause a direct ingress into the small rear bedroom, then jump to it and have it fixed. However, If intending to purchase a property free of damp; then deciding to have a chemical injection DPC (damp proof course) installed "just in case"…[would be unwise]. Perhaps you intend to purchase a property with an external ground level which quite obviously bridges damp proof course, but nothing has been picked up during the survey and on close inspection there is indeed no ingress within the property. Under these circumstances, it would be prudent to refrain from pursuing remedial works. There is no ingress present, it's spending money on a problem that doesn't exist.
Damp is incremental, you can deal with it if and when the problem arises. Don't buy into nonsense that 'thousands of pounds of damage could be prevented unless I pay for such and such treatment' It's not true. Properties are not and never have been constructed like that. Minor works that can be undertaken by either yourself or a tradesman are always a good investment and basic common sense.
Ray Betts Damp Proofing: Prevention rather than a cure, is key in some areas, i.e. general maintenance, is always the best defence. The most common cause of rot and dampness is rain water goods, a leaking gutter can cause thousands of pound worth of damage in a very short period of time. If you even think you have damp or rot, have it inspected quickly.
A Slater and Son: All damp prevention measures are well worth doing, penetrating and condensation problems can be prevented by simply not letting pipes and gutters get into disrepair and keeping a well ventilated house. These can all be done by the homeowner. Rising damp is different this is actually wear and tear of the building where basically the original damp course has broken down. These works need doing by a professional or competent DIY person.
All Dry Damp Proofing: If you are buying a property always pay for a pre-purchase damp and timber report to be carried out, this way there will be no hidden costs further down the line once you move in. Imagine this, you are viewing properties and you see the house of your dreams, it's perfect all freshly painted with a family living there. you agree a fee and buy the property, you move in and are loving life. Six months later though and you start to see damp patches forming, they are just above the skirting and on the chimney breast. There is also a musty smell coming from under the subfloor and kitchen units, and now there appear to be beetles in all the window sills. This might cost a lot to put right.
SellingUp.com wishes to thank the following companies for their contribution to this Expert Q&A: Rochester Building and Damp, Ray Betts Damp Proofing, A Slater and Son, All Dry Damp Proofing.