We use the internet for almost everything nowadays. Whether it's doing the weekly shop, booking a holiday or making a hair appointment, the internet is our go-to for getting things done. Why would house-hunting be any different? Once upon a time buyers relied on shop windows and the local paper for scouting out potential homes, but now between 80% and 90% of buyers do their research online.


The website Rightmove is at the forefront of this digital trend, and is arguably the single most important marketing tool for advertising a property in the UK today. The portal is an online showcase for more than 900,000 properties on the market and gets 130 million visits every month, resulting in more than four million property enquiries. Of all the time spent on the top four property websites, Rightmove accounts for 77% of it.
If you've got a property to sell, that's where you need to be. But how do you get there?
Advertising property on Rightmove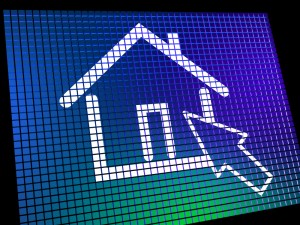 Rightmove doesn't accept private sellers, which means if you want to advertise on Rightmove you'll need the help of an estate agent. And you've got two options here.
You could hire a traditional high street estate agent, although there's no guarantee they'll place your property on Rightmove – some rely instead on those shop windows and property pages we mentioned earlier. But if you do find a high street agent that advertises on Rightmove, be prepared to pay handsomely for it. Traditional agent fees are costly – typically 1.5% + VAT – and can very easily spiral into the thousands, depending on the value of the property you want to sell.
A much cheaper way to get your property on Rightmove is through an online estate agent. These agents charge a fixed fee – considerably lower than a high street agent – and will list your property on Rightmove as standard (plus up to 500 other property sites in many cases).
Plus, with a variety of different online agents offering a variety of packages, you can choose one that best fits your needs. So if you just want to get your property on Rightmove, a basic package from a lower-priced online agent will do the job nicely. You'll have your property in front of thousands of potential buyers, without paying a premium.
For example, Griffin Residential offers basic packages starting at just £295 – perfect for simply getting your property on Rightmove. Then there are agents such as eMoov and HouseSimple who charge a little more but in return help carry the weight of property selling by offering a number of other services, such as negotiations and legal advice. And then there are agents such as YOPA, whose fee structure is a little higher still, but as a 'hybrid' online agent offer a complete home-selling service, and still for considerably less than a traditional estate agent. And still, of course, with that all-important Rightmove listing in mind.