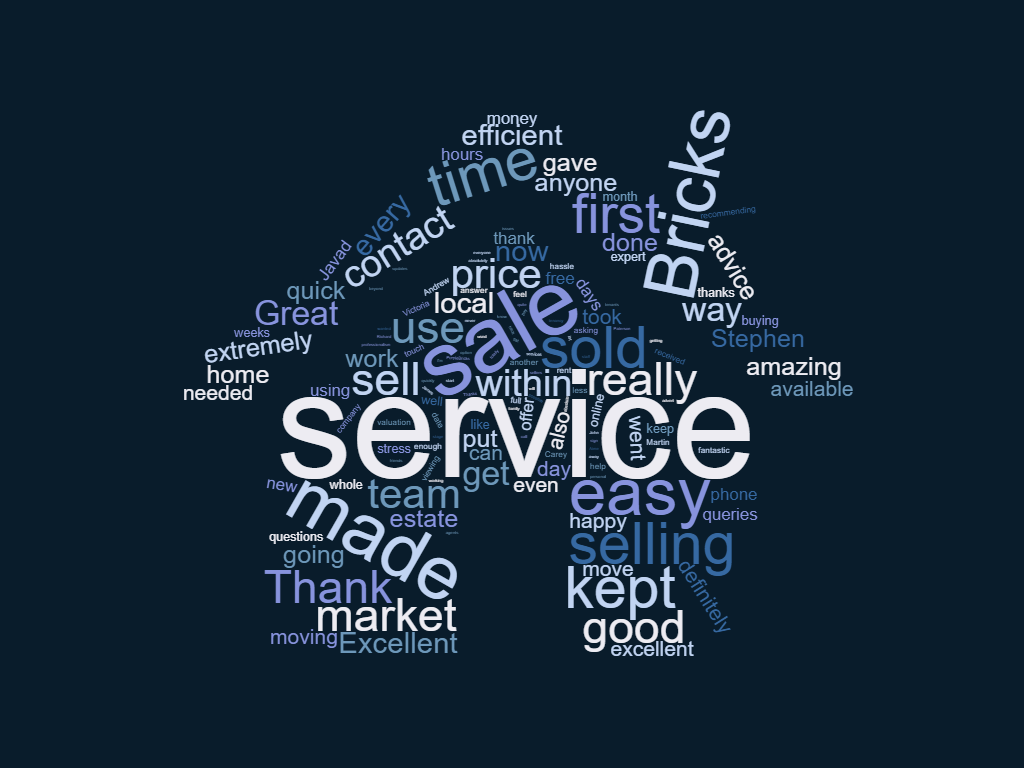 In 'Reviews at a Glance', we compile a word cloud using data* from the most recent 100 TrustPilot reviews, to give an overall picture of each online estate agent.
What's immediately notable about Purplebricks' word cloud is the frequency of words with particularly positive connotations. 'Amazing', 'happy, 'great' and 'good' stand out around the most common word, 'service'. This would certainly correlate with the agent's 89% 'excellent' score on Trust Pilot, based on nearly 63,500 reviews at time of writing.
There are consistent references to time, such as 'weeks', 'days, 'hours' and 'quick', suggesting their service is prompt and, as appears in the word cloud, 'efficient'. Elsewhere, we see references to staff, both as a whole – 'team' – and individually: 'Stephen', 'Javad', and 'Martin', for example. This would suggest a highly personal approach to customer service.
Indeed, Purplebricks strongly champions its local experts, claiming their staff all 'know their patch inside and out'. The company also puts a strong onus on its round-the-clock support, which is reflected here in words such as 'phone', 'available', 'contact' and 'questions'.
Purplebricks is arguably a market leader in the online estate agency field, and it's certainly well-known thanks to its comprehensive advertising campaigns. But as evidenced by the word cloud, it would appear that customers are predominantly impressed by its service and efficiency, rather than value offering, as there are no references to cost or money.
Nonetheless, it seems that Purplebricks does a good job in achieving its predominant objective, as customers make repeated references to 'sold', 'sale', 'moving' and 'sell'. Indeed, according to the company, they sell as many as three times as many homes as any other estate agent.
*Data obtained 10/04/2019 and visualised via wordclouds.com – words repeated fewer than five times have been excluded for brevity.