Leading portal Rightmove would be used by 65% of buyers starting their property search today, ahead of Zoopla on 50%, a SellingUp.com survey has found. The poll asked 1000 potential property hunters about their portal preferences to help sellers decide which sites to get listed on.

Almost half of people said they would search on more than one of the main portals, but the survey discovered that 20% of buyers would only use Rightmove, beating Zoopla (7%) by three to one. Newcomer OnTheMarket.com was chosen as the exclusive search portal by 2%.
Property Portal Survey – March 2015
Imagine you are looking to buy a property in the UK today. Of these three property websites – Rightmove.co.uk, Zoopla.co.uk and OnTheMarket.com – which would you be likely to search on?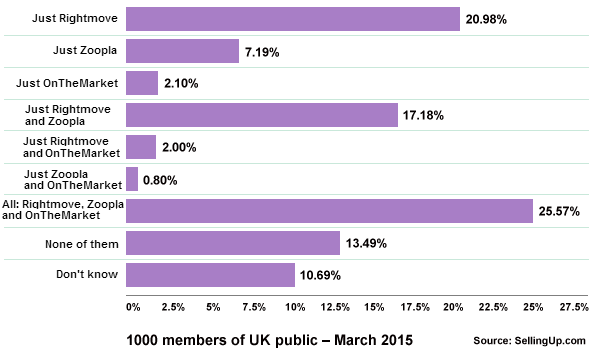 Headline findings and analysis
Safer to stay with Rightmove than Zoopla
Thousands of estate agents that want to be on new website OnTheMarket.com are being made to leave either Rightmove or Zoopla in what is known as the 'one other portal rule'. The survey result appears to back up the decision of the majority of OnTheMarket.com member estate agent branches who have chosen to drop Zoopla instead of Rightmove. Dropping Rightmove seems to be risking 20% reduced exposure for the clients' properties versus a 7% reduction for those not on Zoopla. However, it would look safer yet (in the short term at least) to remain on both Rightmove and Zoopla and to not join OnTheMarket, considering it has far fewer exclusive users (2%).
Major overlap in property portal searches
Rightmove features in 65% of the survey's property searches, Zoopla in 50% and OnTheMarket.com in 30%*. This demonstrates that many property hunters are using multiple portals and seeing duplicated results – i.e. the same properties appearing. Many sellers will want their property to be listed on all portals, but some estate agents are concerned about rising portal listing fees. The overlap shows that an estate agent would in theory be wasting a certain amount of money by listing on multiple portals. The key question for estate agents is whether this cost is greater than the loss caused by reduced enquiries that would likely follow when leaving a main portal.
Risk of leaving both Rightmove and Zoopla
The total number of people whose combined answers stated that they would search on only Rightmove, only Zoopla or only the two of them is 45%. If an estate agent chose to abandon both Rightmove and Zoopla and instead only list on OnTheMarket.com they would be risking missing out on close to half of potential buyers. No details are available on how many estate agents have taken this route, but it has been confirmed by OnTheMarket.com that some have.
Significant unclaimed market share available
Nearly a quarter of respondents (24%) answered either 'None of them' or 'Don't know'. This suggests that the three main portals – Rightmove, Zoopla and OnTheMarket.com – have growth potential available that doesn't necessarily require directly targeting users of their competitors. It could instead involve reaching new groups, e.g. those not familiar with searching online for property, those who have never heard of any of the portals or those who prefer using local agents' websites.
Hidden delay factor for multi-portal listings
More than 42% of searches were overlaps involving both Rightmove and Zoopla, suggesting that these buyers would check both of the portals. The survey asked them to imagine they were searching 'today' so they might be expected to check both portals at roughly the same time, giving visibility to a property even if it is only one of them. However, in practice property searching can be an ongoing, disjointed process lasting weeks, months or even years. It seems likely that while these Rightmove and Zoopla joint users would check both websites, the precise intervals for each one may be inconsistent. In other words, they may check Rightmove once a week and Zoopla once a fortnight, or vice versa, and therefore it might take longer for a property to be seen were it to be on only one of these portals, which may cause a delay for the seller in receiving enquries.
* A note of caution should be added to the market share attributed to OnTheMarket.com by the results. Although 25% chose to search on 'All three' which included OnTheMarket.com by definition, it may have been the case that some of these were simply attempting to seem sensible and thorough by making a choice akin to 'I would search as many websites as possible'. When considering that OnTheMarket.com launched in late January 2015, to reach a brand awareness this high by early March would be surprising. Further research into the brand reach of OnTheMarket.com would be needed to verify that finding.
Membership of property portals
Rightmove claims to have 16,843 estate agency branch members, while Zoopla announced recently it has 13,402 but revealed a further 500 had handed in their notice to leave during January.
OnTheMarket.com claims to have a membership of 4,800 estate agent branches. It says that 90% of its members (4,300 branches) have switched from Zoopla.
Zoopla has not released its own figure for how many branches have left for OnTheMarket.com, although in a statement in February it revealed it had 2,657 fewer UK branches at the end of January (not including 500 that are due to leave) than at the same time last year.
It is not clear whether the discrepancy between OnTheMarket.com's claims about Zoopla's losses (4,300) and Zoopla's own statement about how many fewer branches it has (3,157 in real terms) is caused by new members joining Zoopla from another source, offsetting its losses, or whether there is a time delay in reporting further agents leaving Zoopla in February and March to date – or if there is another explanation.
Rightmove claims 260 branches have left for OnTheMarket.com and the figure has not been disputed. No figure has been released for how many agents have left both Rightmove and Zoopla for OnTheMarket.com.
Conclusion from the survey
Rightmove and Zoopla are clearly the dominant portals in terms of user preference today, but OnTheMarket.com appears to be a serious potential threat to the long standing 'duopoly'.
This survey has been conducted during the early weeks since OnTheMarket.com's launch and it is possible that in time its brand strength and website traffic may grow to the point that it becomes just as well used as its competitors, or even more so.
However, in the meantime, concerns have been raised in the media and by consumer lobby groups about the potential negative impact for sellers of not having their property shown on both Rightmove and Zoopla – the two biggest portals. As it stands today, this survey result appears to add weight to that concern.
Basic survey data
The survey of 1000 people was conducted by Toluna for SellingUp.com as an 'omnibus' style poll which targets the general UK public.
Gender
Female: 60%, Male: 40%
Age range
18-34: 27%, 35-54: 41%, 55+: 32%
Region
South: 41%, Midlands and Wales: 21%, North and Scotland: 36%, Northern Ireland: 2%.
Feedback on this research
If you would like to follow this research item up for a news piece or blog post and require any further information, or you just want to let us know your thoughts, please contact us