A survey by SellingUp.com has found that 65% of active UK residential property investors intend to remain so, while 35% will leave their plans to one side after the Brexit vote. SellingUp.com polled members of leading investment website Property Tribes in early July to ask about their buying intentions post-EU referendum.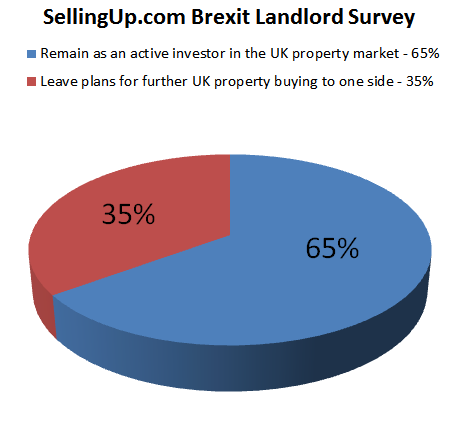 Of the 97 respondents, 69 declared themselves to have been potentially in the market to buy more property and almost two thirds of that group said they will continue as before, while over one third of them will stop property hunting as a result of the June 23rd referendum decision.
Most of the investors polled were multiple landlords, with 46% owning two to five properties, 20% having portfolios of six to nine and 26% in the 10 or more category. Single-property landlords accounted for 8% of respondents.
Comments & Analysis
Director of SellingUp.com, Oliver Lewis, commented:
"While this is a fairly small sample survey, the respondent quality is extremely high and as an insight into the mindset of the UK's serial residential property investors we believe the findings are significant.
"It is clear that although those private landlords choosing to remain as active buyers were in the majority, the number of property market leavers is sizable too.
"Effectively, this poll suggests that one in three otherwise keen investment buyers has been removed from the market as a result of the Brexit vote, which could mean noticeably less competition for some properties, and possibly a resulting drop in prices.
"Even though most active buyers are saying they will remain in the market, this still feels like a blow to estate agents, especially in the context of the so called war on landlords being waged by the Government.
"For many investors, Brexit uncertainty has become a new reason to watch and wait rather than buy, on top of several other tax and legislative measures that make it more expensive and complicated to be a private residential landlord.
"Put all together, the pressures on small investors from issues like the upcoming loss of mortgage interest tax relief, the new stamp duty 3% surcharge and other recent changes means that Brexit could be the tipping point that puts off thousands of otherwise active buyers in the UK property market."
About the Survey

Survey commissioned by: SellingUp.com, in association with Property Tribes.
Question posed: Has the UK's decision to Leave the EU put you off buying further investment properties at the current time?
Full results: Total respondents = 97. Yes – 25%, No, I am actively planning to buy 46%, No – I am not in the market anyway – 29%.
Respondent profiles: Property ownership levels – 1 property = 8%; 2-5 properties = 46%; 6-9 properties = 20%; 10+ properties = 26%
Data gathering and analysis platform: Toluna.
Survey period: July 5-10, 2016.