Comparing the online estate agent market allows you to find the agent that best fits your needs? Whether that be based on price, services offered or specific expertise – our online estate agent comparison tool makes it easy. But there may be times when two or more agents fit the bill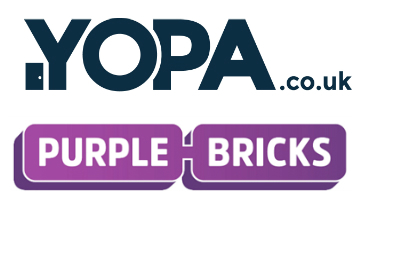 That is where our head-to-head comparisons come in handy. Here you can see the finer details associated with each agent, so you can make a choice that's right for you.
Here we're comparing YOPA and Purplebricks – both respected 'hybrid' agents which offer a selection of add-ons to their basic packages, so you can truly tailor make your online sales experience.
YOPA is a well-known brand thanks to its memorable TV advertising – something which has translated into growth for the business: it aims to recruit 20 or so specialist agents every month to support the growing company. Great news for sellers looking for an estate agent with local knowledge.
Purplebricks boasts similar credentials. Its recognisable branding has helped propel the organisation to the top spot when it comes to the UK's largest online agents – success which is spilling internationally. The company recently opened offices in Australia and has plans to dominate the US market too.
Purplebricks vs YOPA: head-to-head comparison
Comparison point
YOPA
Purplebricks
Year established
2015
2014
Where based
London
Solihull, West Midlands
Number of properties for sale
2,552
15,217
Average asking price
£288,854
£301,499
Average sale listing age
16 weeks
14 weeks
Number of properties sold
2,500 this year
Unknown
Type of estate agents
Hybrid online estate agent with local experts
Hybrid online estate agent with regional experts
Hosted viewings service
Yes, for an additional fee
Yes, for an additional fee
Free valuation home visit
Yes
Yes
Opening hours
Mon-Fri 8am-8pm
Sat-Sun 8am-5pm
24 hours a day, seven days a week
No sale no fee option
No
No
Deferred payment option
Yes, pay on completion or after 10 months (whichever is first)
Yes, delay payment until completion or up to 10 months (whichever comes first)
Free trial
No
No
For more information visit: YOPA