A survey for SellingUp.com has revealed that the end of full mortgage interest tax relief – known as 'Section 24' – is the greatest investment deterrent among all of the Government's recent 'anti-landlord' policies.
A swathe of new and proposed laws and tax changes has led to the accusation from landlord groups that the Government is trying to discourage private individuals from investing in property in order to raise revenue and promote first time buying.
SellingUp.com indentified the major policies of the so called 'war on landlords' that seemed likeliest to have the most impact on future investment plans. In a survey of 209 private UK landlords we asked which, if any, of the most publicised policies was putting them off buying new properties at the current time.
UK Government Policy and Landlord Investment – SellingUp.com Survey 2016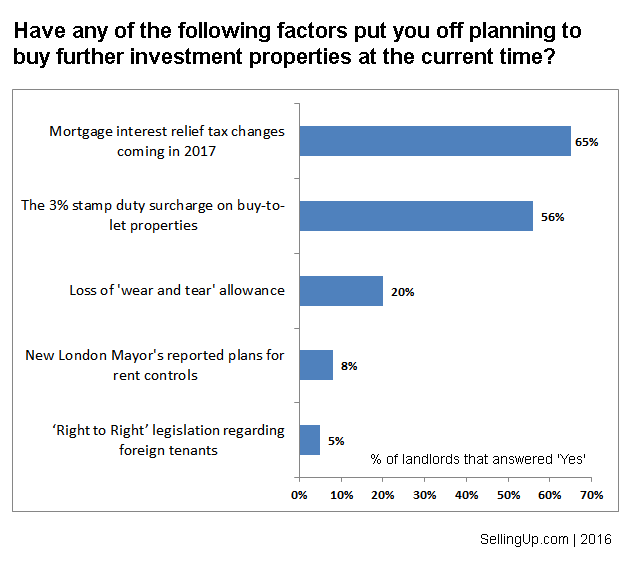 Note: Respondents were allowed to choose more than one answer. The total proportion that answered 'Yes' by selecting at least one of the five answers was 70%.
The majority of landlords surveyed were multiple owners, with 60% having between two and nine properties and 29% holding portfolios of more than 10. The remaining 11% were one-property landlords.
The polices we asked landlords about were:
Mortgage tax relief: 'Section 24' (of the Finance Bill 2015/16) which will see the phasing out of tax relief on mortgage interest for landlords to basic rate of tax. Scheduled to begin in April 2017.
Stamp duty surcharge: The extra three percent tax that applies to buyers who already own at least one property. Law since April 2016.
Wear and tear allowance: End of a flat rate 10% annual tax allowance on the value of items in a furnished property, replaced by a more complex like-for-like item scheme. Law since April 2016.
'Right to Rent': Law which forces landlords to check the immigration status of prospective tenants or face a potential fine of up to £3,000 if it transpires they are renting to illegal immigrants. Law since February 2016.
Rent freezes: London Mayor Sadiq Khan's reported intention to "fight for new powers to freeze rents", which left many landlords anticipating rent controls in the capital. Now in office, however, Khan appears to have gone quiet on the topic.
Comments & Analysis
Director of SellingUp.com, Oliver Lewis, commented
"The message from the survey of investors is loud and clear; the so called 'war on landlords' appears to be having a dramatic deterrent effect.
"The policy that would put most landlords off investing was the cutting back of mortgage interest tax relief, but this is actually no surprise when you consider that it has the potential to cause huge economic harm to private landlords. Many landlords rely on their interest payments being tax deductable in order to make property investing financially sustainable.
"The three per cent stamp duty surcharge for additional properties is the second most cited dealbreaker policy, which makes sense considering that it adds an extra £9,000 to the price of a £300,000 property on top of the regular tax.
"The loss of wear and tear allowance is clearly seen as a blow to landlord profitability, as it was a simple system that did help manage the costs of maintaning furnished properties.
"Rent controls by the Mayor is an area of regional policy that would, if ever implemented, only affect London. Even thought Mayor Khan's talk of rent freezes before his election so far have come to nothing, the prospect of regulation in this area appears to have scared some landlords off.
"The Right to Rent policy is the only issue in the survey that does not involve a potential financial loss, which may be why it was the least cited deterrent. However, if landlords fall foul of the law they could be hit with a £3,000 fine, so money is still at stake."
Notes:
Survey: Conducted by SellingUp.com among members of the Property Tribes landlord forum.
Full results: Total respondents = 209.
Respondent profiles:
Overall investment property ownership – 1 property = 11%; 2-5 properties = 43%; 6-9 properties = 17%; 10+ properties = 29%
London investment property ownership – Yes = 29%, No = 71%
Data gathering and analysis platform: Toluna.
Survey period: June 1 – July 31, 2016.