You've heard about online estate agents. You know they represent a cost-effective, convenient alternative to traditional agents and you know they could save you thousands when it comes to selling your property.
But the chances are you've only heard of the main players; the larger established companies such as eMoov, YOPA and HouseSimple. It's down to the success of companies like these that a raft of smaller, niche competitor online agents have emerged.
They may not have local agents on the ground or offer the same array of services as their larger counterparts, but these smaller agents often offer the best opportunities for saving money – some of them can provide a basic home-selling package for as little as £250.
The catch? There is no catch. Providing you're prepared to do some of the work yourself, using one of these smaller online estate agents could yield enormous savings while bringing many of the benefits of a traditional agency. Here, we outline three small companies that you probably haven't heard of, but really should know about.
Sell My Home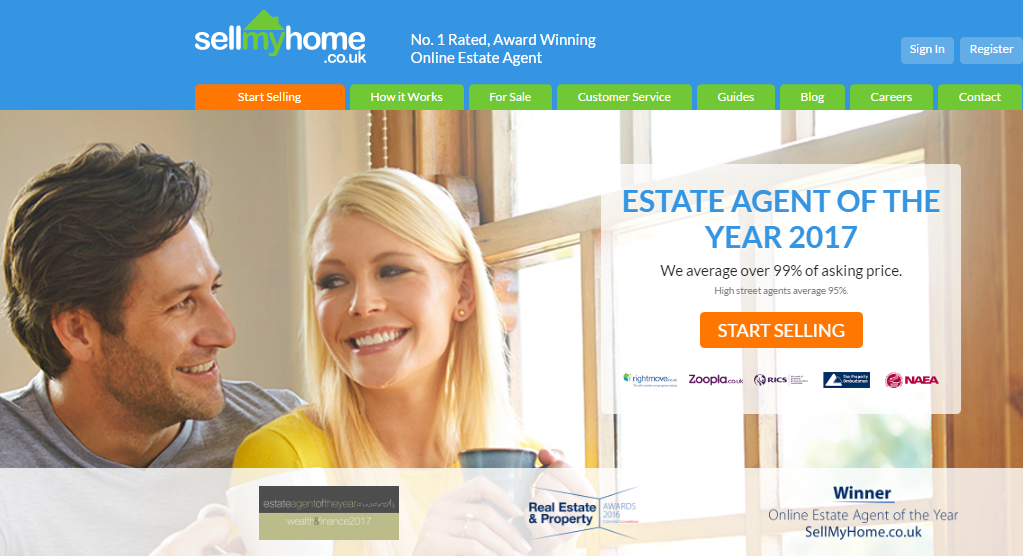 Founded in 2013, Sell My Home is a newer online estate agent but it's racked up an impressive list of accolades in its short history. The company won Estate Agent of the Year 2017, averages over 99% of asking price (compared to the high street agent average of 95%) and is the top-rated estate agent online according to property seller reviews. They've got the largest average number of properties online at any one time: 280.
The company takes a straightforward approach to property sales, offering just two easy-to-understand packages, each with full support from its small team of six, all of whom are National Estate Agent Association qualified.
Sell My Home are also the only online estate agent to offer technology called 'Virtual Walkthrough'. Accessible on any device, this tool facilitates remote viewings and virtual open days, giving potential buyers the chance to really get to know your property before committing to a physical viewing.
Costs and services
Sell My Home offers two packages, 'Pay Now' and 'Pay Later', plus a London-centric deal.
Pay Now costs £695 (including VAT) and includes: 12 months on Rightmove, Zoopla and up to 500 other sites; professional photography; professional floorplans; a dedicated account manager; buyer management and sales progression management.
Pay Later costs £1,499 (including VAT), only payable upon completion of the sale. This package includes the same benefits as Pay Now, with a shorter listing time of six months.
The London package, at £899, offers everything from Pay Now plus a Virtual Walkthrough package and for sale sign.
Turtle Homes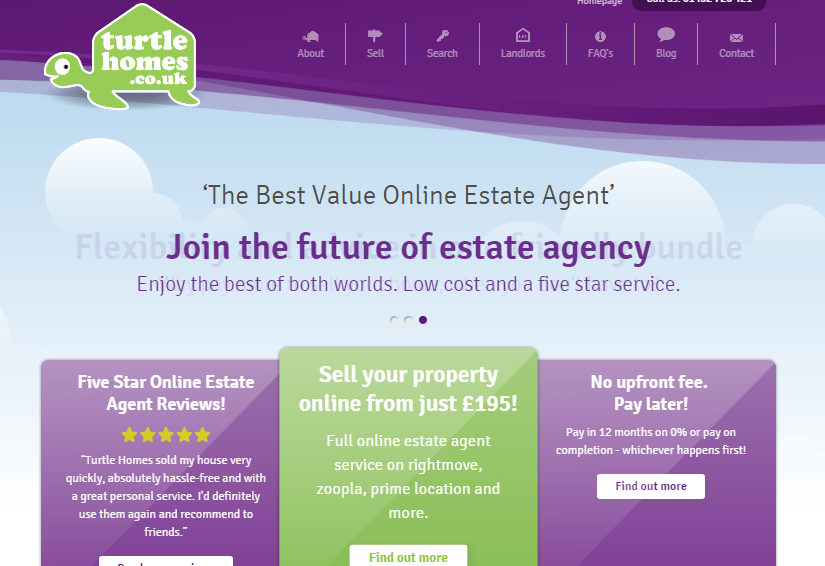 Turtle Homes was one of the very first companies to recognise the potential of internet-driven property sales. Established in 2008, the company has grown in tandem with the digital world, meaning it's well-positioned to maximise sales values because it understands how people – sellers and potential buyers alike – use online tools.
The company is passionate about what it calls 'the online estate agent revolution' but recognises that some might have reservations about selling their property this way, which is why even though Turtle Homes predominantly operates online, clients are always welcome to ring the office to speak to a member of their small, friendly team.
Turtle Homes is part of the Michael Tuck Estate Agent group in Gloucester and boasts a raft of five-star reviews from happy customers. With an average of 140 properties online at any time, they estimate they're saving clients upwards of £50,000 in traditional estate agent fees every month.
Costs and services
Turtle Homes offers three tiers of service: basic, standard and premium, with a discount available for those in the Armed Forces and emergency services.
At the most basic level, which costs £250, Turtle Homes offers a contract of up to three months, a home visit for measurements and floor plans and inclusion on all of the top property websites such as Rightmove and Zoopla. They'll also forward all enquiries to you so you can arrange viewings, and provide negotiation services so you can get the best price for your property.
The standard package costs £450 (£395 with a discount) and offers the above features with a longer contract of six months, plus a professional photography service, a 'for sale' board, weekly performance updates and a viewings management package. Plus they'll take care of paperwork for solicitors.
Finally, the premium package – which costs £650 (£550 with discount) – is available as a 'pay later' purchase, with a contract length of 12 months. It includes all of the above features, plus a valuation service (in Gloucestershire only), an attractive YouTube slideshow movie on your property listing and inclusion on Rightmove in a premium display format.
UPDATE November 2018: Turtle Homes is not currently accepting new customers
For alternative no frills (or low cost/cheap) online estate agents, see the price comparison ordered by low price
Griffin Residential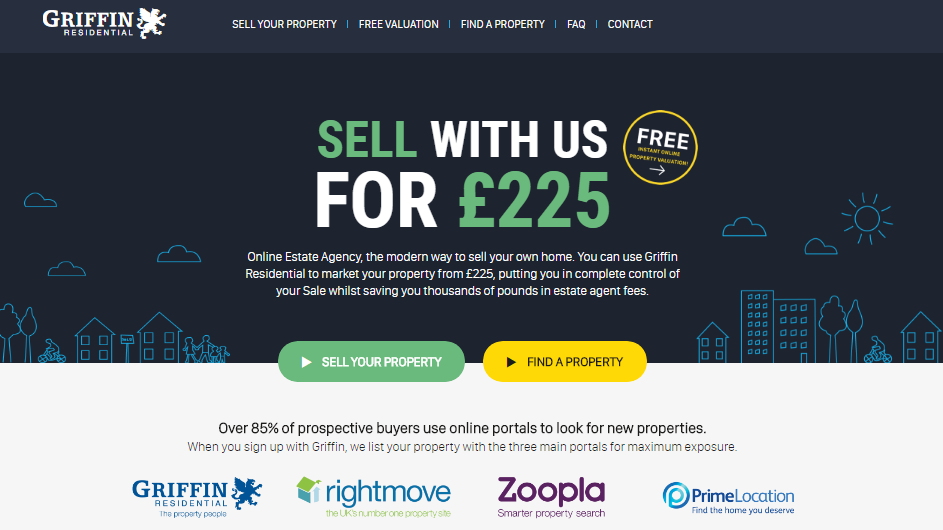 Griffin Residential knows property sales inside and out, having started life as a traditional high street estate agency 30 years ago. Armed with this comprehensive property knowledge, the company now sits at the forefront of online sales, offering a modern, no-nonsense and tech-focused approach.
The company is keen to put sellers firmly in control of their sale and offers a fully responsive online sales portal that allows clients to manage the process quickly and easily via any device with an internet connection. However, they recognise that online property sales can be daunting, so alongside their digital approach their friendly team is on hand to answer any queries personally.
With a slightly smaller average number of properties online at any time (70), the company tends to attract premium properties with higher asking prices, but welcomes properties of all shapes, sizes and valuations.
Costs and services
Griffin Residential offers four levels of service, Gold, Gold+, Platinum and Platinum+, plus a variety of optional add-ons to best tailor their service to your needs.
Their basic package, Gold, costs £225 (including VAT) and includes: a 12-month property listing with Rightmove, Zoopla and Prime Location; a dedicated account manager; activity reports to monitor interest in your property; full market appraisal and a no-obligation agreement with hassle-free cancellation. Optional extras range from professional photography (£90) to premium listings (£60).
Gold+ offers the same benefits but costs £595 on a payment on completion only basis.
The Platinum package, £525, includes everything offered in the Gold tier, plus a 'for sale' board, energy performance certificate, professional photography, professional floor plan and sales progression/completion services.
Platinum+ offers the same benefits, but at a cost of £225 upfront plus £595 on a completion basis.
To compare Griffin Residential visit the comparison