An estate agent called The Purple Property Shop might have some colour in their cheeks after its online petition to save their much maligned industry attracted JUST ONE signature.
The petition entitled 'There'll always be a place for the High Street Estate Agent' was launched on popular campaigning site iPetitions.com last June with a goal of gaining 1000 supporters.
But almost a year later it had drawn just a single backer and no-one has shared the petition on Facebook or Twitter.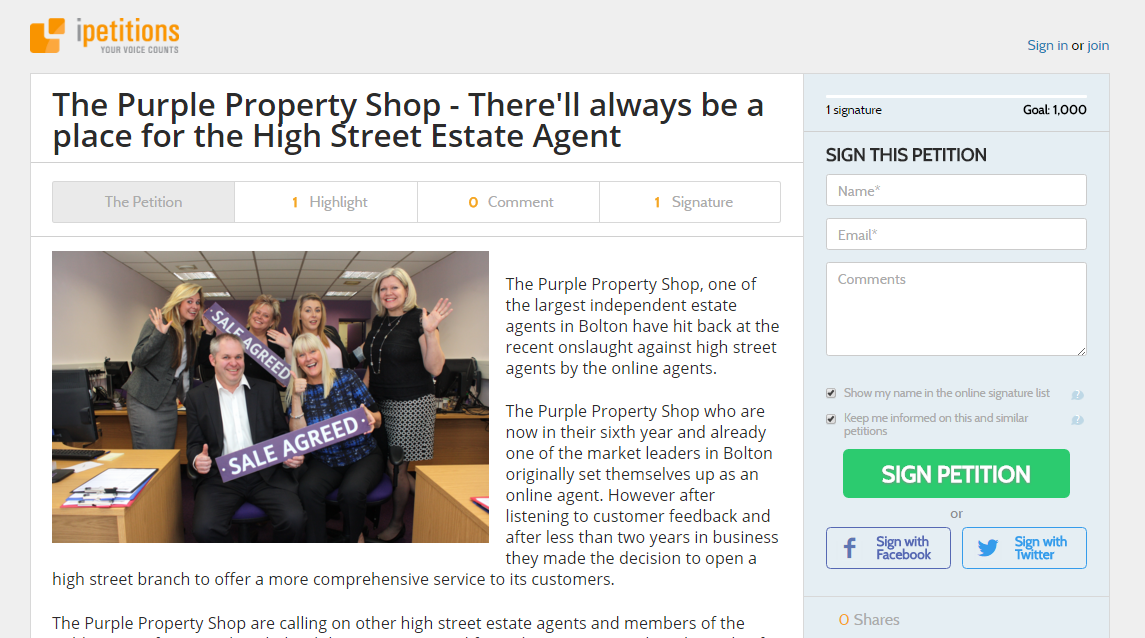 The petition page says the campaign was designed to: "hit back at the recent onslaught against high street agents by the online agents", referring to the threat posed by emerging internet-based lower cost rivals.
It adds: "The Purple Property Shop are calling on other high street estate agents and members of the public to join forces and get behind their campaign and force the press to put the other side of the story across and to protect local independent businesses and save our high street."
The only signature – at the time of writing this blog – was 'Carl Fletcher, United Kingdom (a quick look at the The Purple Property Shop's website reveals he is Head of Conveyancing at AFG LAW, their 'partner' law firm).
In an odd revelation The Purple Property Shop claims it started out as an online estate agent but later became a traditional agent after "listening to customer feedback".
Other petitions on iPetitions.com include campaigns to grant a terminally ill Star Wars fan his last wish to see an early screening of the recent hit movie (4672 signatures); a bid to keep York public art gallery free of charge (1254 signatures) and an effort to protect a UNESCO World Heritage Site in Italy from plans to install a landfill site nearby (6938 signatures).
Judging from the public reaction to the petition so far is looks like  'There'll always be a place for the High Street Estate Agent' doesn't quite have the same emotional appeal.