Estate agents that sign up to the new property portal OntheMarket.com risk losing around 15% of potential vendors according to an exclusive survey by SellingUp.com.
We wanted to know how consumers would feel about an estate agent not listing their property for sale on both Rightmove and Zoopla (there is a rule which means agents using OntheMarket.com can only be on one other portal).
We polled 600 UK homeowners with a single choice question: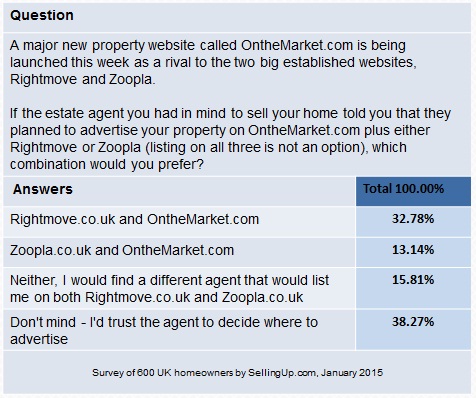 Let's break it down then. The first thing that looks interesting to us is that over 15% of people seem to be determined to have their properties listed on both Rightmove and Zoopla. So much so that they would be willing to ditch an agent that they already had in mind to hire if a new agent could guarantee them this.
Why can't the agent just list them on all three portals? Agents advertising on OntheMarket.com (OTM) will only be allowed to also list on either Rightmove or Zoopla, but not both – it's what's called the 'one other portal rule' and looks like it has been designed to help grow OTM's market share.
The potential problem for estate agents is that if they do join OTM, according to our poll, their inability to also use both Rightmove and Zoopla as well could be a dealbreaker for 15% of vendors.
Is 15% a lot of customers? In a hot market with lots of stock and commissions flowing maybe not, but in a quiet period it could prove a serious blow to an agent's margins.
But there is a financial incentive for agents to take a potential hit. OTM has been set up by agents for agents and is promising to cost them a lot less to use than Rightmove or Zoopla. Maybe they will be prepared to offset any lost business in the short term to make cost savings in the long term, while waiting for OTM's brand to build and for those vendors to no longer feel they have to be on both of the current big two portals.
What else does the poll suggest?
Rightmove is considered a more important place to be listed than Zoopla by vendors overall. Almost one in three (32.78%) were happy to stick with our theoretical estate agent if he listed on Rightmove as well as OntheMarket.com. By comparison, 13.14% preferred Zoopla and OntheMarket.com as the combination.
As well as confirming what was generally known anyway, that Rightmove is 'bigger' than Zoopla, this raises another question – would the agents who will be listing on Zoopla and OTM be driving away even more vendors who would expect to be on Rightmove at the very least, which, let's face it is where most people look for property and will do for the foreseeable future. The same could apply if the vendor is a Zoopla fan and the agent is only offering Rightmove and OTM.
So in addition to the 15% who want both big portals covered, the possibility that the vendor's favorite is not even an option could drive more business away.
Finally, it seems that there are still quite a lot of people who trust estate agents to do what's in the vendors' best interests. A refreshing outcome for agents, no doubt. More than 38% said they don't mind and would trust the agent to make the right decision on how to advertise.
What does all this mean for online estate agents?
At Selling Up we have a special interest in online estate agents, having created the first-of-its-kind online estate agent price comparison, so we wondered what this survey might mean for that portion of the industry.
At present online agents are not eligible to list properties with OTM, so they will presumably continue to advertise on Rightmove and Zoopla, and this fact could be a useful selling point to add to the huge potential cost savings they promise.
If a vendor is thinking about using a high street agent but they are only able to offer Rightmove and OTM and charging commission which will cost a few thousand pounds the vendor may think, "but I want to be on Zoopla AND Rightmove, and one of those online estate agents can do that and will only charge me £300 to sell my home."
In other words, could a 'big two' portal guarantee be the tipping point that gets more vendors willing to take a punt on an online agent?
It may well hinge on whether OTM takes off or not – which will inevitably take time and marketing spend. If the 'big two' becomes the 'big three' within a year, and online agents still can't get exposure on OTM it could damage their credentials.
We suspect the war will be between Zoopla and OTM – (Rightmove seems safer for now) and the outcome of that struggle could well have a major impact on the growth of online agents.