You've got a lot of options when it comes to choosing an online estate agent – growing consumer demand means there are many companies on the market offering a variety of services. To narrow it down, use our online estate agent comparison tool, which you can use to search by criteria that matters to you, such as price or service score.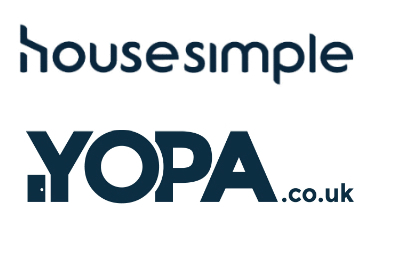 You might find more than one agent meets your initial needs. This is where our head to heads are useful. Here you can compare two agents directly.
In this case, we're looking at HouseSimple and YOPA. HouseSimple is a well-established player within the online estate agency field. Launched in 2007, the company already had more than 30 years of experience in the UK property sales market. The company has since gone on to wine Online Agency of the Year 2014, 2015 and 2016.
YOPA is a newer contender to the market, but is making waves with its focus on local experts – the company aims to recruit 20 new local agents per month. This focus on personalised and knowledgeable service has won the company considerable investment from a variety of heavy hitters, including DMGT, which was once home to FindAProperty and PrimeLocation.
HouseSimple
YOPA
Year established
2007
2015
Where based (town/city)
Sudbury, Suffolk
London
Number of properties for sale (data found for each agent here – see 'residential for sale' once entering the agent's name: https://www.zoopla.co.uk/find-agents/estate-agents/
3,600
2,552
Average asking price (data via link above)
£321,972
£288,854
Average sale listing age (data via link above)
15 weeks
16 weeks
Number of properties sold (see agent Q&As: https://www.sellingup.com/category/reviews (don't have Purplebricks. See their website)
8,000
2,500 this year
Type of estate agents (Local experts/central support staff – any brief info to explain)
Online estate agent operating from central location
Hybrid online estate agent with local experts
Hosted viewings service (yes/no – any brief info to explain)
Yes, for an additional fee (although not advertised)
Yes, for an additional fee
Free valuation home visit
Yes
Yes
Opening hours
Mon-Fri 8am-8pm
Sat 9am-5pm
Sun 10am-4pm
Mon-Fri 8am-8pm
Sat-Sun 8am-5pm
No sale no fee option (yes/no)
Yes
No
Deferred payment option (yes/no) any brief info to explain
Yes, delay payment until completion or up to six months (whichever comes first)
Yes, pay on completion or after 10 months (whichever is first)
Free trial
Yes
No
For more information visit: